Join us on December 14th for our next event in The Hour Series, Holiday Cheers and Beers! This event is fast approaching so grab your tickets today.
The Hour Series is a monthly meet-up hosted as an unstructured happy-hour. While this month we are focusing on Holiday Traditions, let's take a moment to recap the Business Hour: Design and Politics event from last month.
Chatting about politics may seem like we are breaking every rule in 'Dinner Party Etiquette 101', but with topics like "If you were appointed Secretary of Design what would your first act be?" we stirred up some interesting conversation during our November event, the Business Hour: Design and Politics. Read more about this event and what to expect next month from one of our AIGAWM members, Stephanie Gerling.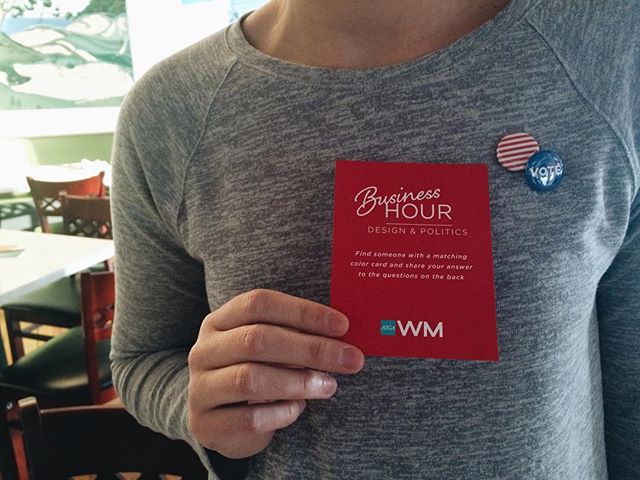 Moment of truth: I joined AIGA West Michigan as a way to network while I searched for a new job.
Luckily, that new job arrived. But I am not a graphic designer; I'm a writer. I have attended a few AIGA Communications meetings but never an event they hosted. l felt like a bit of an artistic outsider walking into Creston Brewery last week for the Design & Politics Business hour, but fortunately, that feeling was fleeting.
There were, of course, graphic designers among the dozen or so people who attended the event, but also hair artists and stylists, filmmakers, writers, and marketing specialists. With this smaller, more intimate crowd, it was comforting realizing that a collective like AIGA exists to bring together all types of innovative minds–regardless of profession.
Leading off with the question, 'If you were appointed Secretary of Design, what would your first act be?' allowed everyone to transition their happy hour chatter into a more streamlined discussion.
Some of the responses were light-hearted:
'Ban bad fonts!'

'Have the option for bold and italicized fonts on smart phones!'

'Help city websites look BETTER!'
While other responses turned to the intersection of politics and design:
'Have a national ballot design.'

'More diversity in design. Provide more opportunities for these populations.'

'Reevaluate inner-city urban design–like streets and urban planning.'

'Showcase design to students, show them there is a future for their artistry.'
As promised, this event was refreshing. The Design & Politics Business hour showed me that I made the right decision to join a discussion that I foolishly thought I knew nothing about. Every voice at that table in the far corner of Creston Brewery was heard. Every suggestion was greeted with murmurs of agreement and spirited commentary.
In the light of the new, emerging political landscape we woke up to after Election Day, please remember how vital it is to be involved in your local community–to truly be a part of where you live and where you work. Remember the importance of art and expressing yourself.
I hope you all continue creating.
Stephanie Gerling, AIGAWM Member