Trends for 2013: Me-tail
This is the first of a new series of posts about up-and-coming trends affecting our business. From design to the economy, various AIGA Board members will be providing their own points of view and insights. And as they say on NPR, the views expressed here are those of the author and do not necessarily reflect those of AIGA.
The Rise of Me-tail
Bespoke clothing and personal shopping are not new concepts, but they are becoming more common and accessible. Technology is making what was once only available to the elite a viable option for everyone, and consumers' craving for these personalized products and services is fueling the trend.
Customized Products
A few years ago, if you had custom tennis shoes, it meant that Nike sponsored you and your last name was Jordan or Bryant. Today, it just means you have $135 and a few minutes to burn online. But what I find more interesting than the new simplicity of ordering custom shoes is people's desire to do so.
When I was in high school, you were the shit if you had a pair of Jordan's. Part of it was the expense. Not many parents were willing to dish out $175 ($270 adjusted for inflation, we're talking 1994 here). The other part was the brand. Even if you were not that great at basketball, you were somehow connected to someone who was.
Now, we are seeing a shift away from consumers wanting what everyone else has to wanting what no one else has. A brand's ability to deliver custom products is translating into returns in terms of loyalty and profitability.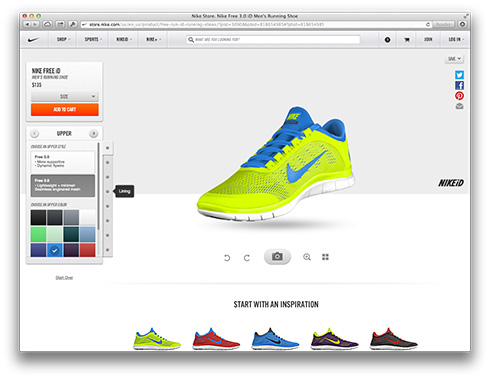 Nike is at the forefront of consumer customization. However, you are still pretty limited in terms of colors.
Nokia Lumia 820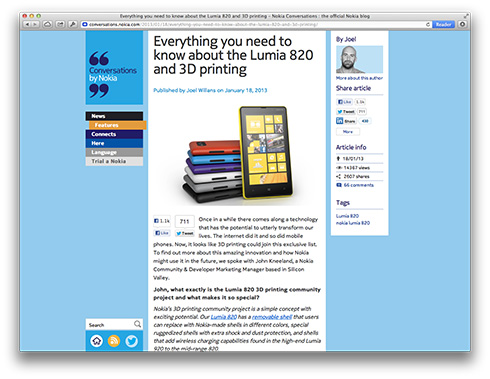 It's not just shoes, either. How do you differentiate your product when every smart phone looks like some variation of an iPhone? Nokia has figured out how to give people the tools to 3D print their own case.
Curated Products
In addition to the rise of customized products, we are seeing a huge increase in the popularity of curated shopping services. Sites like Trunk Club connect you with your own stylist who will shop for you each month, and all you have to do is send back what you don't like. Or, if you're tired of scouring the Internet for what is in the forefront of design, Svbscription will do it for you and send you that new thing you didn't know you needed every three months. These services are unique in that they take the online out of online shopping, creating personal experiences. Like customized products, these services deliver what no one else has (or at least has found yet).
Trunk Club CEO, Brian Spaly, commented, "At Trunk Club, we help men curate a style that is both timeless and modern without the pain of shopping. We build deep relationships with our customers, taking the time to get to know them so we can predict their needs and desires. Best of all, we can personalize Trunk Club to be whatever you want it to be." Brian also mentioned that their service resonated very well with 30-45 year old urban professionals.
Trunk Club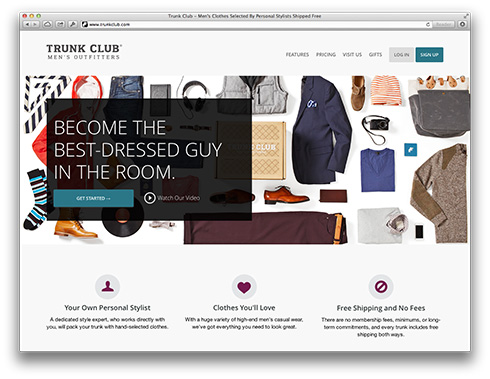 Who has time to go shopping when you can have a stylist do it for you?
Svbscription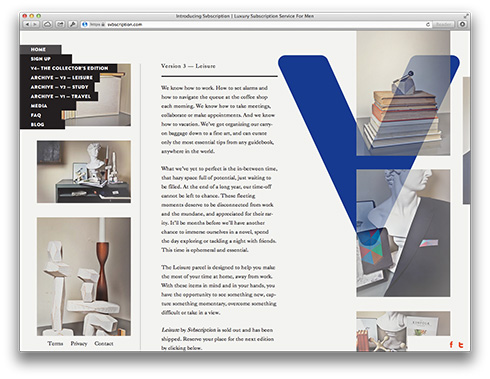 As they say on their site, we live in "a world where we suffer from the tyranny of abundance, overwhelmed by choice and selection." So why not outsource this task by having someone else shop for you?
—
Customized and curated retail (Me-tail) is a trend that's just taking off. The availability of 3D printing and people's desire for the unique will only accelerate it. People in our industry have the design sensibility and technology to meet this new demand. How will you take advantage of it?