How do you define graphic design?
It's planning and producing combinations of words and images to convey messages. It can be public or private, educational or commercial. I think there are many shades of grey in the practices surrounding graphic design, like industrial design and design of space and environments. Even copywriting and photography share DNA with graphic design.
Tell us a little about what you do. 
I'm an in-house Type Designer for Monotype, the largest and oldest type foundry in the world. I design typefaces and build digital fonts, mostly custom typefaces for branding, hardware and software, ad campaigns, publishers, etc.
There are many facets to type design. History and research are very important. A lot of drawing, calligraphy, and lettering are needed to explore formal possibilities of a typeface. Then there's digital drawing and spacing, kerning and coding OpenType features, and all of the other technical pieces required for functional, quality font software.
When and how did you get your start in the industry?
As a student at GVSU, I was designing a typeface for my senior project, along with the packaging to go with it. I was still focused on print in those days, so I did specimen posters and CD (!) packaging. My current supervisor, Steve Matteson, lived in Holland, Michigan, at the time, and my professor gave me his card. I contacted Steve at his small type foundry in Chicago, asked if I could be an intern, showed him my portfolio, and moved to Chicago two weeks after graduation. I remember asking, "Should I bring my furniture, or what?" and they said "Yes, bring your furniture." I was hired a few months later, and Monotype bought the firm in 2010. I moved back to Grand Rapids in 2012, and have been working at home since.
What is the hardest thing about the industry you are in?
The grind of working on a large family of fonts. It can, and often does, take months of work. It can be hard to commit to design choices, literally betting on hundreds of hours of work. The further along you are on a family, the longer it takes to make changes, so it's important to make the right DNA choices upfront.
Imagine producing metal fonts, like they did centuries ago. That would have been an even larger bet. Computers help us prototype and test designs much faster today, but still…I liken creating a font family to a musical album. It can take months or years of blood, sweat and tears, but sooner or later you have to release it, and hope that people will like it.
What is the number one thing you would tell new designers?
To focus on progress, and not perfection. Be patient and work hard, you'll get better. When I first started, I was really focused on what other people were doing and saying, and it was crippling. I needed to focus on my own work, my own progress.
How do you stay inspired? Any favorite sources?
I'm inspired by a lot of things. History. All sorts of calligraphy and lettering. Media like movies, video games, and music. The Internet can be a vast mine of anything you want to know. Dangerous with distractions, though. I have stacks of books and magazines. My reading list grows faster than I can read. I think that is the studious, slowly building, side of inspiration–the Crock Pot. But there's also a wild side, like the kind that strikes you at the grocery store, in coupon junk mail, right before you fall asleep, or on a crazy Alice in Wonderland trip down a YouTube or Wikipedia worm-hole! Inspiration can be a wild beast sometimes, thrilling when present and frustrating when elusive.
Any mantras or sayings you live by?
I've been collecting and recording "life lessons" for a few years now. Sometimes serious, sometimes practical, sometimes neither. I'm an optimist, you know? Like:
Progress, not perfection.
It's always darkest before the dawn.
Don't catch a falling knife.
Haters gonna hate.
Eat before you go grocery shopping.
What is exciting to you about the way your field is evolving? What is scary or challenging?
I think we are in another typographic renaissance. We have a combination of heightened interest in typography, wireless networks and technology to deliver fonts to any screen, and a booming industry with web design and mobile apps.
Our media world is much more complex today than it was even a decade ago. There are new pieces to the puzzle, like smartphones and social networks. We're blazing new trails on how content is created and consumed, and it's frickin' exciting!
What kind of project or subject area you would love to work on someday?
I would love to work with an architect on designing a space like a park or building. I love games like SimCity and Roller Coaster Tycoon, with planning, layout, and finance. I'd like to design a car, and some furniture. I want to design a magazine for tablets. I want to design a food truck and its menu. I want to start an education foundation and give away scholarships. I want to start a business.
Talk about your favorite materials or formats to work in.
I've been a vector junkie since I was a student. I like clean materials and processes, like mechanical pencils and plain, black ink. X-acto knives and rubber cement. I love metal, glass, smooth wood, and occasionally a good, dense foam. Smooth paper, satin finishes, and screens with high pixel density.
Do you collaborate with others?
Not much. I would like to do it more. Type design can be difficult to collaborate on, but I have weekly critiques with other designers at Monotype. Of course, a custom typeface can be collaborative, if I'm working with other creatives.
How do you usually approach a new type project?
They are all different, really. Most often, the goal is to solve a particular problem, even if it that problem is brand differentiation. I prefer to have time for proper historical research, drawing, and exploring different directions and prototypes.
What's your favorite typeface?
The one I'm working on right now, Joanna Sans! No, really, I have many favorites per typographic genre, with a mix of classic and contemporary masterpieces. The more I learn, the more my taste changes. I need to make a list and share it.
Where do you think typography will be 10 years from now? 
I think a lot will change in ways we can't foresee, as it has in the last ten years. I think the idea of a dumb-terminal computer will finally come to fruition, with all of the tools, resources and entertainment we need online, served from the cloud. I think the Internet will continue to upheave and redefine parts of the economy.
I don't think print will ever die, but it might segment further, with cheap books getting cheaper, and fancy books being treated more like luxury items. Paperback best-selling novels being stocked at brick and mortar? Less so. I have an e-Ink Nook, but I much prefer paper books to this day.
In a recent lecture for AIGA West Michigan, I talked about how typefaces designed for screen will become the norm, and typefaces originally designed for print will be updated to work better on screen. I think screens—and the things we design for them—will continue to gain prominence, along with a designer's attention and focus. We'll see more elegance and refinement in typography for screens. In the future, we will scoff at type designed for screen being used poorly in print, in the same way that we scoff at type designed for print being used poorly on screens today.
Office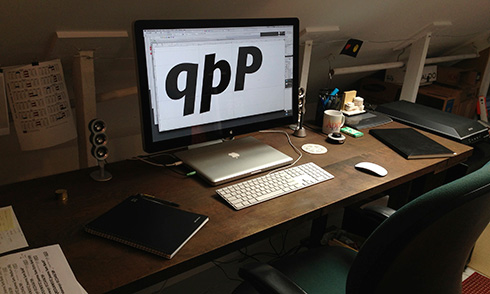 My current office space is on the third floor of an old Grand Rapids house. I can't help but smile every time I hear a squirrel run across the roof. I find it very important to have a dedicated work space, where I can escape from other distractions in my house. I'll be moving into something more permanent this year, but this space has been great in the interim.
Before I moved in, I decided to draw my dream office. I think it's important to plan, big or small. When your space isn't dictated by someone else, you have to decide what you really need. You have to get your own productivity and routine dialed in. It takes self discipline. I can't work in my pajamas. I shower and eat breakfast in the morning, and work during average business hours. I just need a dog and some flat drawers and I'll be all set.
I have a drawing table that rarely gets used for serious drawing. It's more of a project organizer, so my actual desk doesn't get too cluttered. I can't clear my mind and focus with piles of clutter around. I've got stacks of drawings and laser-printed font proofs on there. Currently front and center? Taxes, unfortunately.
Sketchbook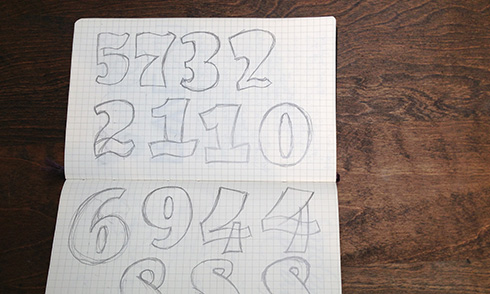 I've kept a daily planner since middle school, and I can't live without it. It keeps me on track throughout the day, and I use it to record billable hours. I have a few sketchbooks for recording ideas, notes from lectures, observations, or just playing around with different type styles.