Having a mentor is crucial in a designer's professional growth. Having a sounding board who can offer guidance when we're launching ourselves into a design career or making a large career change sure makes things easier. 
We have heard from our members multiple times that a mentoring program would really benefit our design community. And in 2018, we got to work on this project. After many months of planning, AIGA West Michigan launched its first mentoring program. As things were moving along, a pandemic brought us more challenges. We wrapped our program last June and, after a few months of reflection and debriefing, we started putting this article together. As a committee, reflection is a huge part of our work. And we decided to share our process and lessons with all of you.
Getting Started
We kicked off the project by doing some research (we're all designers, right?). First, we talked to our members. In January 2019, we sent a survey to discover their needs and interests. Our results showed that many folks were interested in getting a mentor or in mentoring too. The high interest motivated us to keep going.
Being part of a National organization with 74 other chapters offered many other models that we could use as benchmarks. We did a lot of information mining at the chapters' websites and the National Wiki, looking for everyone's programs. This step was great to understand the various operational factors (structure, duration, audience, cost). Another major contribution was what we learned at the 2019 Leadership Retreat from the Atlanta chapter mentorship chairs.
Bringing it to West Michigan
At this point, we had a lot of info in our hands. But we still needed to decide on other things that were chapter-specific. We needed to decide on:
Audience topics: should this program serve only students? emerging designers? Designers changing careers? Do they need to be members? What will our structure be? 

Operation topics: how can we fit this long commitment with all other events and activities (active programming agenda, West Michigan Design Week, students academic schedules) without burning out the board? How many spots can we take on? Do we need more volunteers? Who's gonna support it? Do we need sponsors?
As a board, we framed the West Michigan Design program on these parameters:
Audience: the program would serve soon-to-be grads, designers with 1–3 years of experience, and those considering a career change (moving to freelance, developers who were considering moving to design, etc.).

Costs: the program would need resources to run. We decided that only mentees would pay a fee. If the mentee happened to be an AIGA member, the fee would be much lower. Mentors were giving their time and we were already very grateful for that. If the mentors were members too, that would just be the icing on the cake (most turned out to be).

Length: we would start the program with a 4-month commitment. This number was present in many other chapters' experiences and it was also mentioned in our interest survey.

Spots: 20 spots max (more on this…)

Commitment: almost the entire board would need to get involved in some capacity. Education, Presidency, Treasurer, Communications, Programming, Community and Connection. We also flagged we would really need a specific chair to handle the day-to-day stuff on the program. We brought Shandon as chair then.

Timeframes: we would launch applications early December, pair mentors and mentees in January, and kick things off at the end of January, ending the program at the end of May. 

Communications: our Communications Committee developed the identity for the program within the concept of finding your trail. It would tie to the beautiful Michigan outdoors (have you seen them?) and be a good motivation for the mentees at the same time.
1, 2, 3 Launch (and wait…)
The day arrived: December 3, 2019. We announced on our website, social channels, board members posted on their personal accounts (group effort, remember?) and we had to sit and wait for the applications to come in. And slowly they did. By January 2020, we had quite a bit of interest on both sides and could start pairing folks.
It's a Match!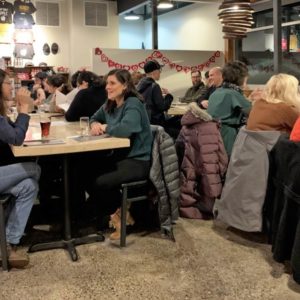 Alecia Frederick and us got together a few times to pair the mentors with the mentees. This was a long process. We read all the applications to get to know everyone better, looked at their portfolio samples, and took notes so we could pair them to the best of our ability.
This was the most challenging part of it all, despite getting familiarized with all the applicants. Our mentee applicants sometimes had very specific needs and we wanted to make sure we could meet those. For some mentees, we had to make personal asks (again, thank you AIGA for fostering our local community). Most folks were excited to join us.
The Opening Ceremony
Our event kicked off at Vandermill, a cider house near downtown Grand Rapids. Everyone was given the name of their mentor/mentee and asked to network until they found their match. As guests began pairing up and starting conversations, the mood shifted to a casual atmosphere. Towards the end of the event we handed out program information packets and gave a small speech explaining the program. We ended with a thank you and networked with the group for a while past the closing time. It was a lively night of introductions and goal setting. 
The General Rundown
Because this was our first program, we did our best to keep it simple.

Mentees were asked to meet with their mentor once a month to discuss career goals and to improve their portfolio. We checked in once a month to remind everyone to keep meeting, and to reach out with any questions or concerns. A short midway check-in took place in April, but for the most part mentees and mentors were to run through the program fairly independent of the AIGA team until graduation.
And Then There Was a Virus… 
One month after the program kickoff, the world shut down. Some pairs were able to meet in person before the Michigan stay-at-home order took place, but a small percentage would only be meeting their mentor/mentee face-to-face at the program kick off. We, like many others, did not plan for this type of situation. Here's the good, the bad, and the ugly:
The Good
More pairs decided to continue with the program than we anticipated and it was great receiving positive emails from folks that were making Zoom meetings work. 
The Bad
Unable to move into a digital space, the mid program event that we had started to plan in February fell through. While we were still checking in on pairs monthly, an event would have helped everyone feel less isolated. 
The Ugly
Communication was hard. A significant portion of people were having troubles keeping connected with their mentor/mentee. We reached out to folks that went silent, but we also understood that the world was experiencing a pandemic and didn't want to push too hard.
Final Steps: Mentorship Graduation
🎓
We divided graduation into two parts. During the first half of the event we split the mentors and mentees into breakout rooms and had AIGA board members Keegan and Alexandra ask questions about each participant's experience with the program. We stayed outside of these breakout rooms to keep answers anonymous. It was during this session that we learned a lot about what mentors and mentees liked, disliked and wished for in the next program. Thank you all for your feedback! The second half of graduation was a zoom Family Feud game pitting mentees and mentors against each other. It was pretty cheesy and a lot of fun. We also were able to send out some cool mentorship pins to graduates afterward.
What have we learned?
With this program being our first ever, we learned a lot. These are our biggest takeaways:
AIGA Involvement: We learned that people want more involvement from our team with this program. Pairs felt like they were the only pairs in the program. This year we plan to be more active on social media, and to have some events planned throughout (even if they have to be digital). 

Structure: People wanted a more structured program. With the 2020 program, our team didn't want to be too involved. Every pair is unique, with unique goals and we didn't want to dictate how meetings should go. That being said, this year we will be creating meeting resources. Handouts on monthly topics to discuss and goal setting exercises will keep momentum going for pairs that are struggling to find discussion topics. 

Have back-ups: People are going to ghost. To accommodate this, the next program will have less pairs so that when this inevitably happens, we have a mentor or mentee easily that can tap in. There will also be higher expectations around communication. Both from our team and with everyone participating. 

Communicate often and effectively: Emailing was a huge pain. With 22 participants, we were sometimes trying to follow 10+ conversations in one email thread. It made communication a nightmare. Next year we will be utilizing Slack or Basecamp for monthly regular communication.
Mentorship 2021 Applications are Officially Live!
We are so excited to take what we've learned this past spring and create an even better Mentorship Program for 2021. So, whether you are a designer looking to give back to the community, offer insights, and valuable career advice or a designer just starting up, looking to learn from someone who's been there, then we invite you to join our group of mentors/mentees!
Applications are officially live. Mentors click HERE. Mentees click HERE.