It seems like a lifetime ago that so many of us were meeting in person, shaking hands, and coming together at events, sometimes just to hang out and talk shop. 2019 was marked by so many great events, amazing speakers, and exciting opportunities to connect. We were really looking forward to recapping and celebrating with all of you at our annual member meeting, which was scheduled to take place this past March. But, the pandemic literally stopped all of us in our tracks.
Since then, it has been awesome to see and experience the positivity and sense of community that is, even now, being fostered through virtual design panels, webinars, and social gatherings hosted by AIGA chapters all across the country. While we take the necessary time to rethink what our organization and chapter look like in the months ahead, in this report, we want to take a look back. We'd like to reflect on all of the great things that AIGA WM accomplished in 2019, and share some of our plans looking ahead at the rest of 2020.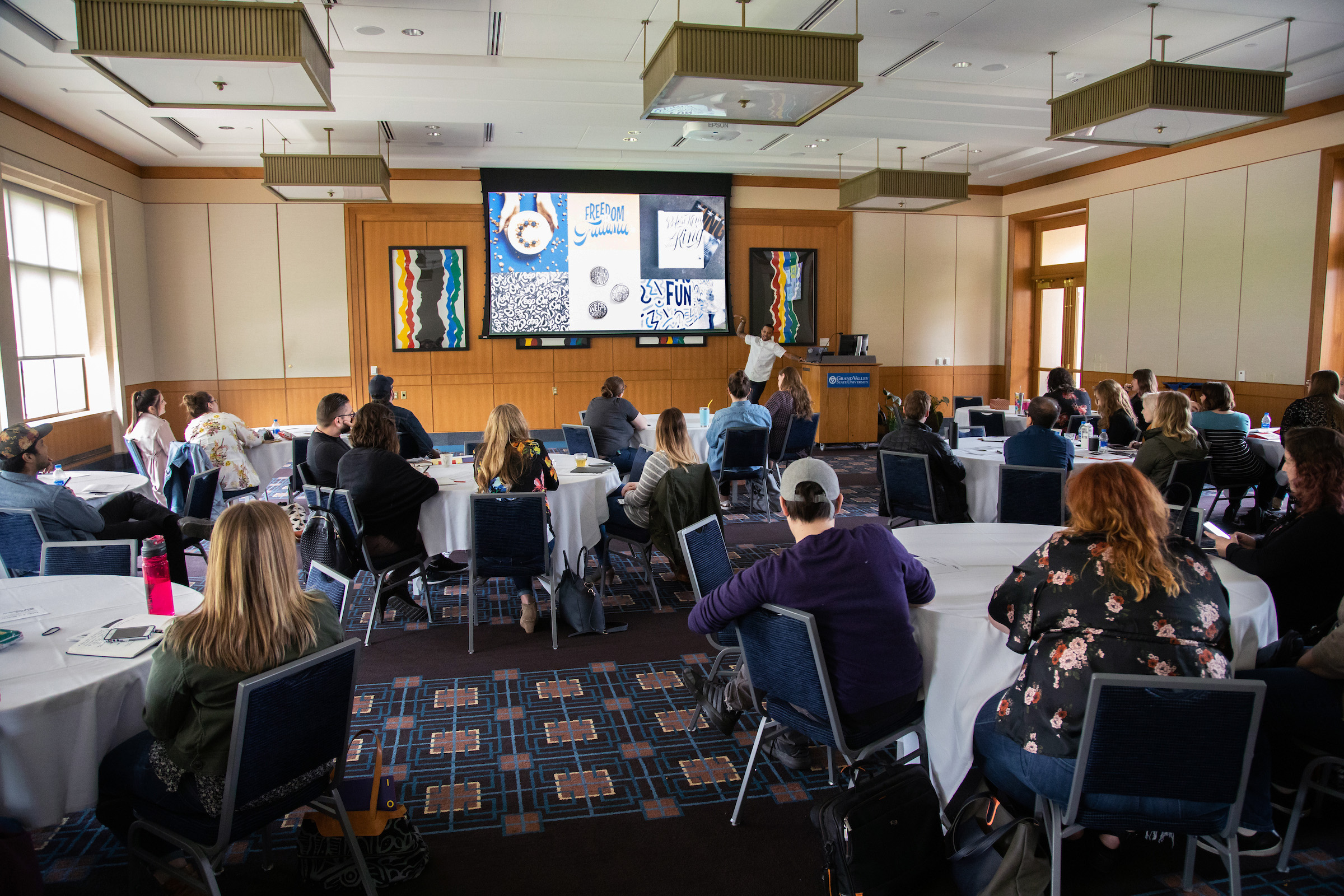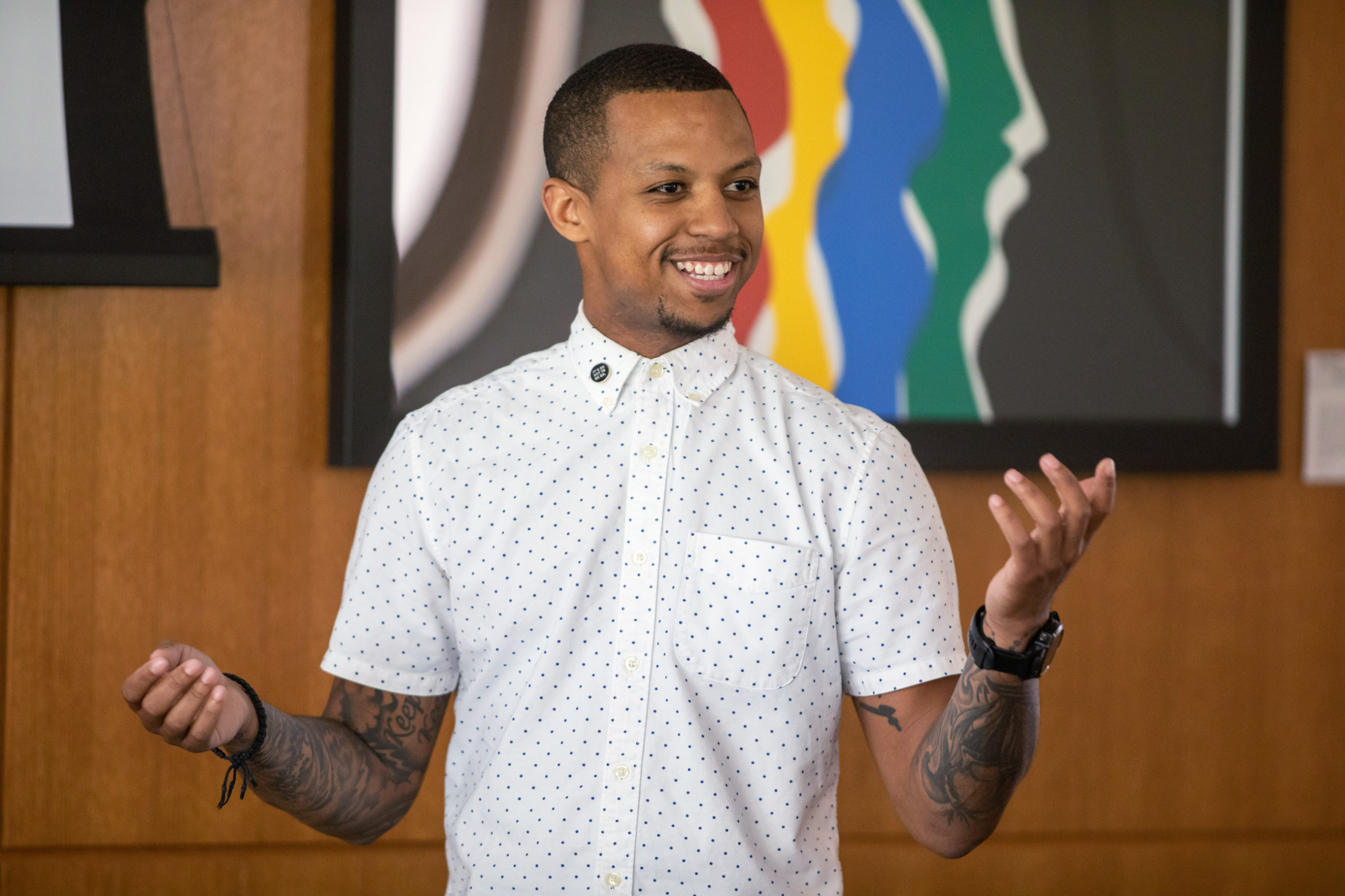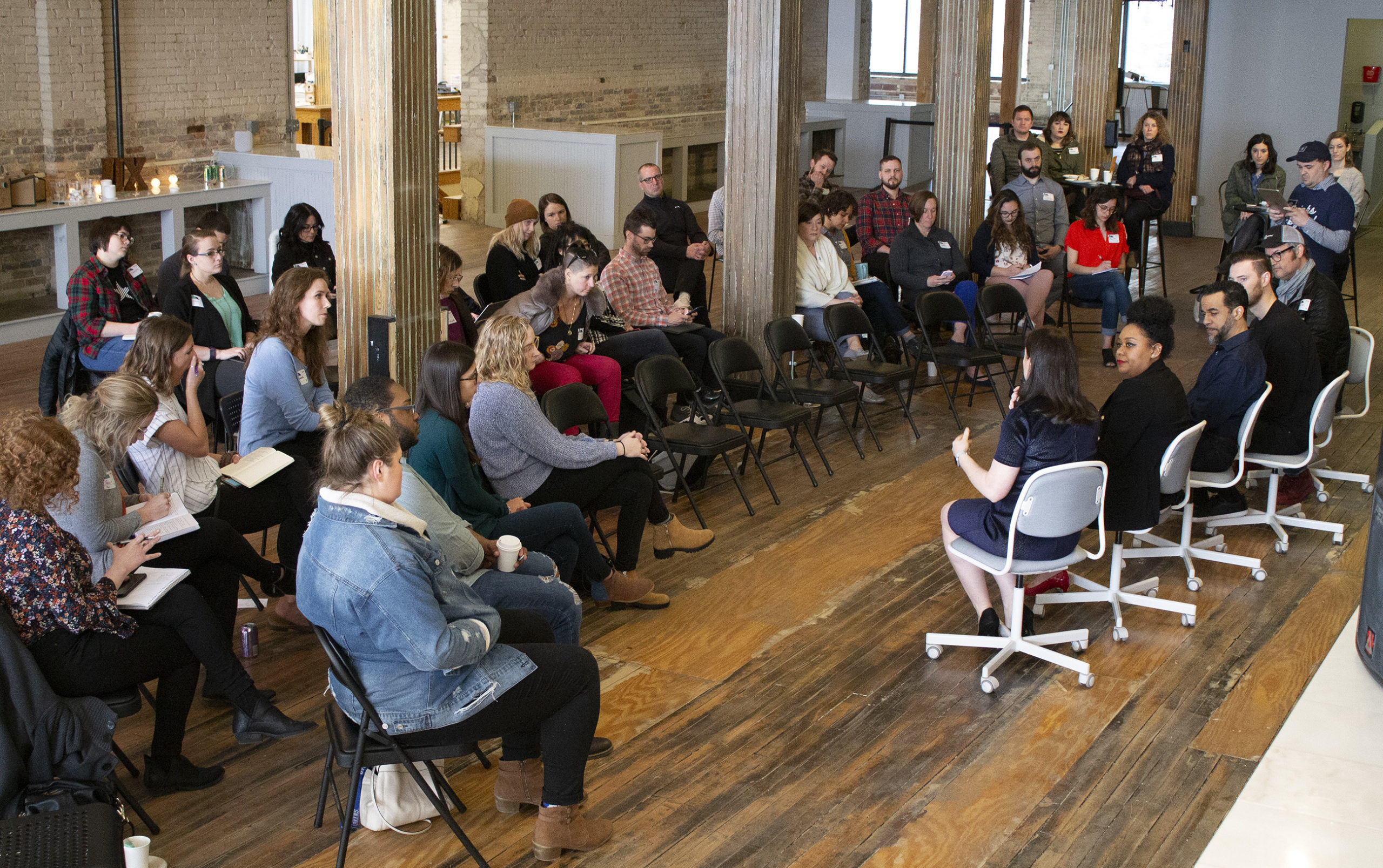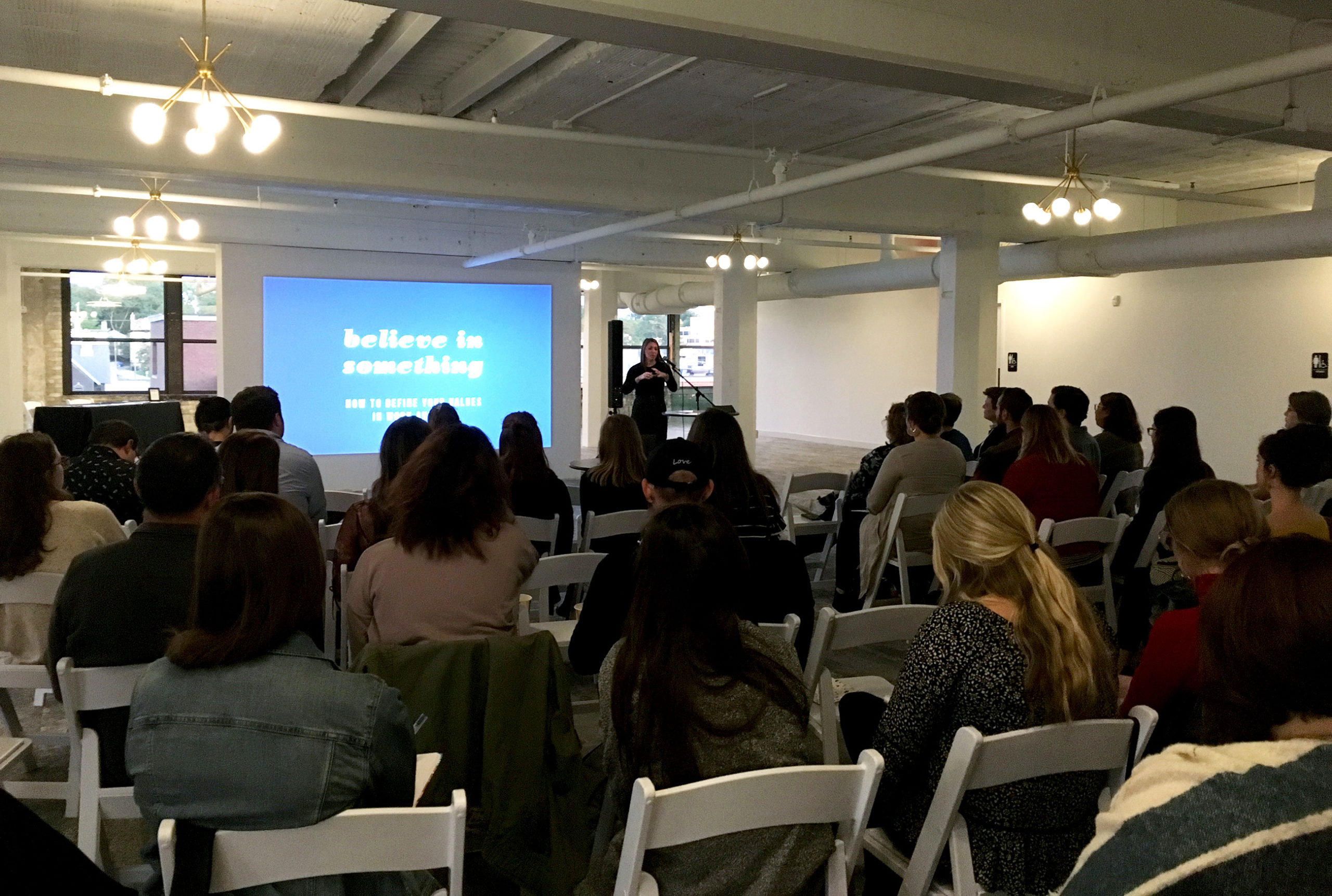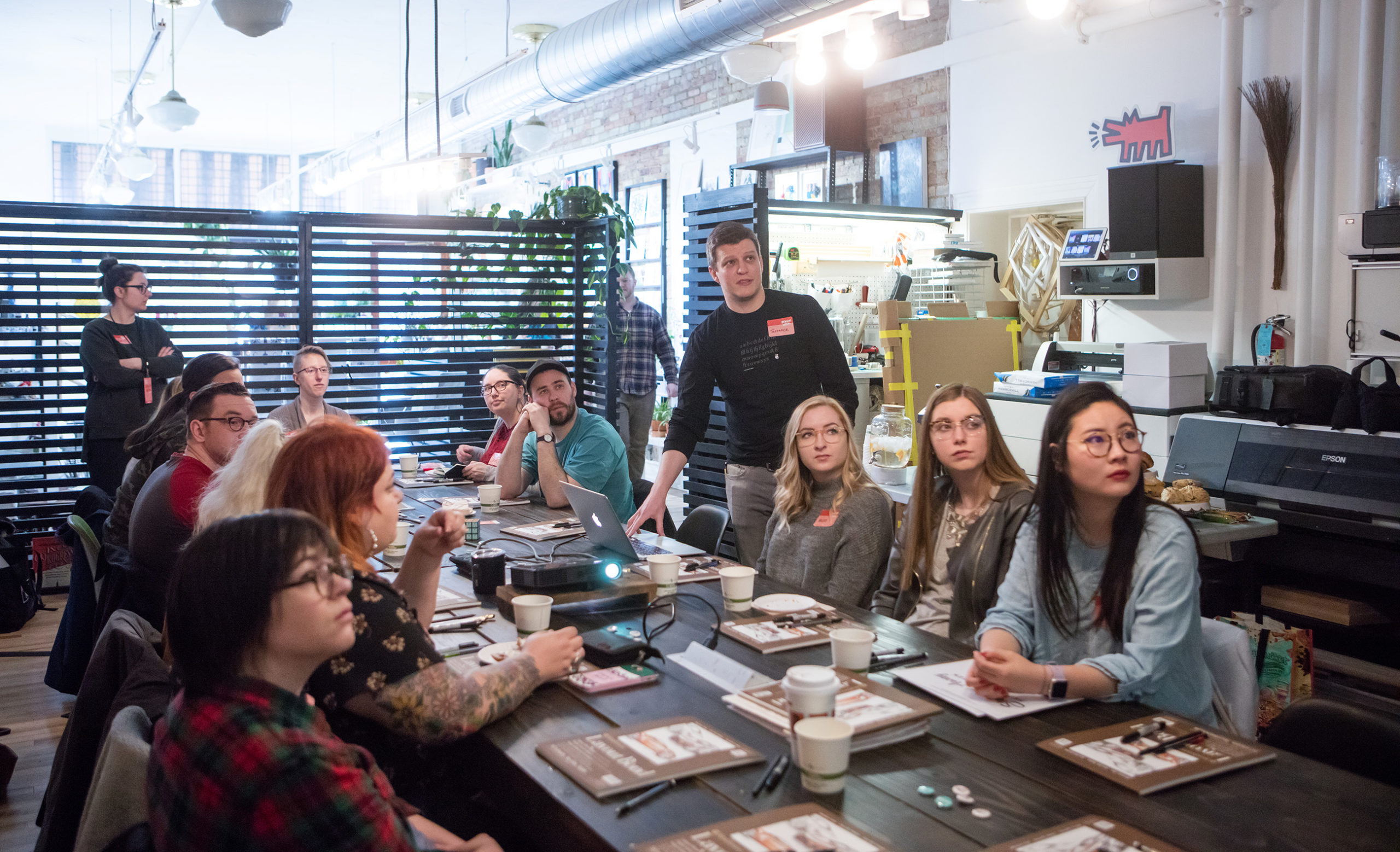 Continued Learning, and Learning, and Learning…
In partnership with GVSU's Richard M. and Helen DeVos Center for Entrepreneurship & Innovation, Get Your Sh*t Together (the chapter's first full-day conference) helped self-employed and in-house designers learn business basics, interpersonal skills, self-optimization, productivity, and more. Conference keynote, Adé Hogue, reminded us all to embrace change, be ourselves, and that baby photos in presentations are a must. 
We gathered for two additional panel events in our 101 Series, covering digital asset management and an expanded discussion on UX design.
Last September, we hosted three events that were part of AIGA Emerge. This nationwide initiative aims to facilitate inclusion of underrepresented groups and emerging talent in the industry. With such a large talent pool within West Michigan, our chapter hosted a career launch panel, a Speed Mentoring session for students, and a lecture on how designers forge their professional paths, presented by our former president, Elyse Flynn. 
Local lettering experts, Terrance Weinzierl and Dave Battjes, collaborated on the hand-lettering workshop Stepping Away From the Screen, sharing the process and inspiration behind type design and then taught us hands-on lettering and sketching skills.
After planning for much of 2019, we launched our first Mentorship Program in January of 2020. Twenty pairs of emerging and experienced designers are currently working together, and we look forward to continuing the program in the future.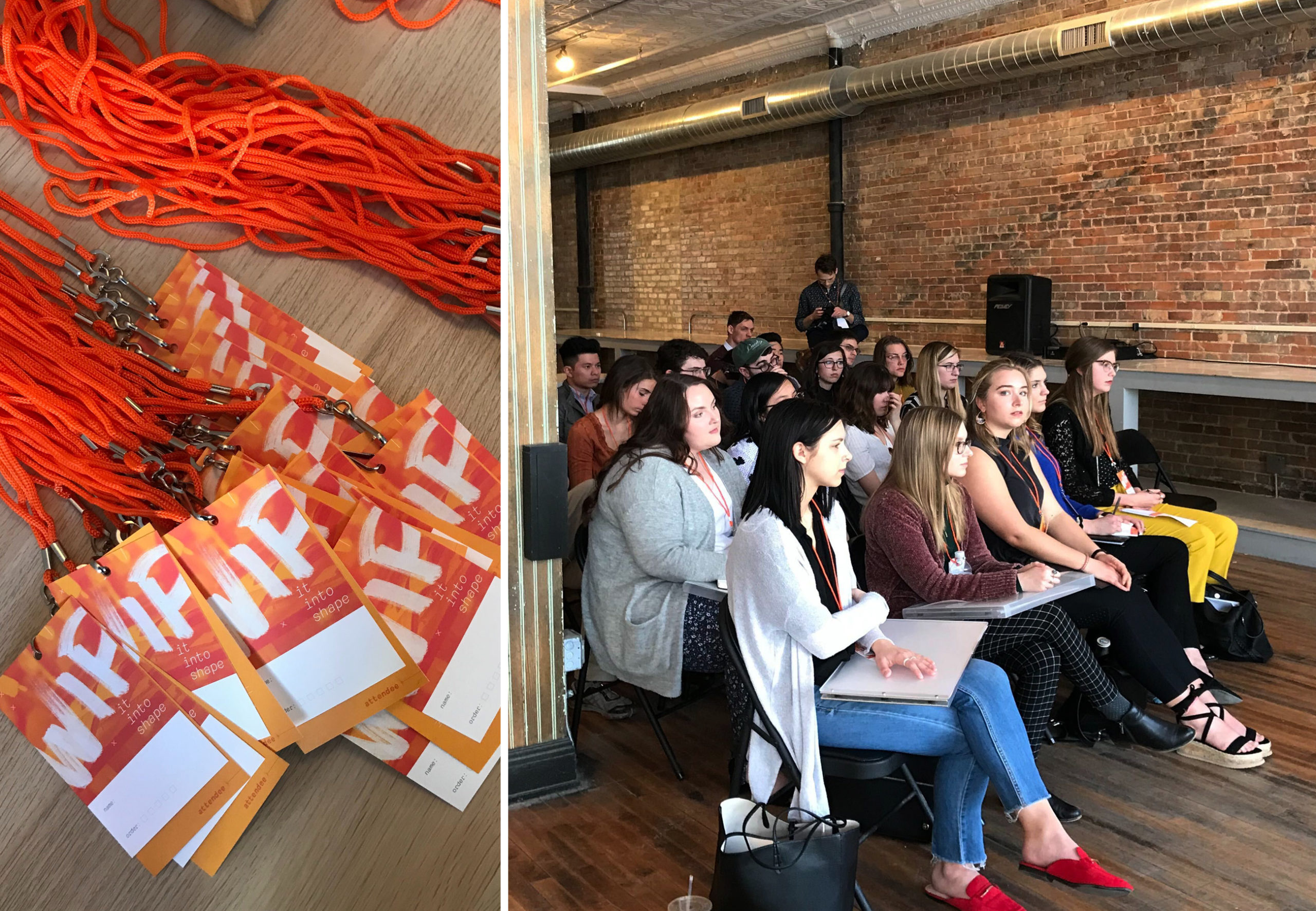 Shaped the Future of Design
Our Annual WIP It Into Shape event happened in March 2019, at Little Space Studio. Students from various institutions across West Michigan had a chance to connect with a local practicing designer, learn about best practices for portfolios, and earn prizes generously donated by our sponsors Herman Miller, SDI Clarity, and Mohawk Paper.
In 2019, our four AIGA West Michigan Student Groups — AIGA Ferris, AIGA GVSU, AIGA KCAD, and AIGA WMU — continued to work diligently to offer students the opportunity to get involved, create community, and build leadership skills. The student board members and faculty advisors worked year-round to provide activities at their institutions and keep design students informed of our chapter. From professional panels, to design projects for clients, to music events and study sessions, to breakfasts and movie nights, these young leaders fostered a community of emerging practitioners. We thank all those who have contributed to our student members development.
In 2019, we also visited the Ottawa ISD Career Tech Center and their Graphic Design Program. Over the summer, AIGA West Michigan participated in their high school portfolio review and in November, we helped put together Finding a Career in Design, a panel on careers in design and creative fields for students and parents. We got an enthusiastic audience interested in design education, business practices, and the future of the profession.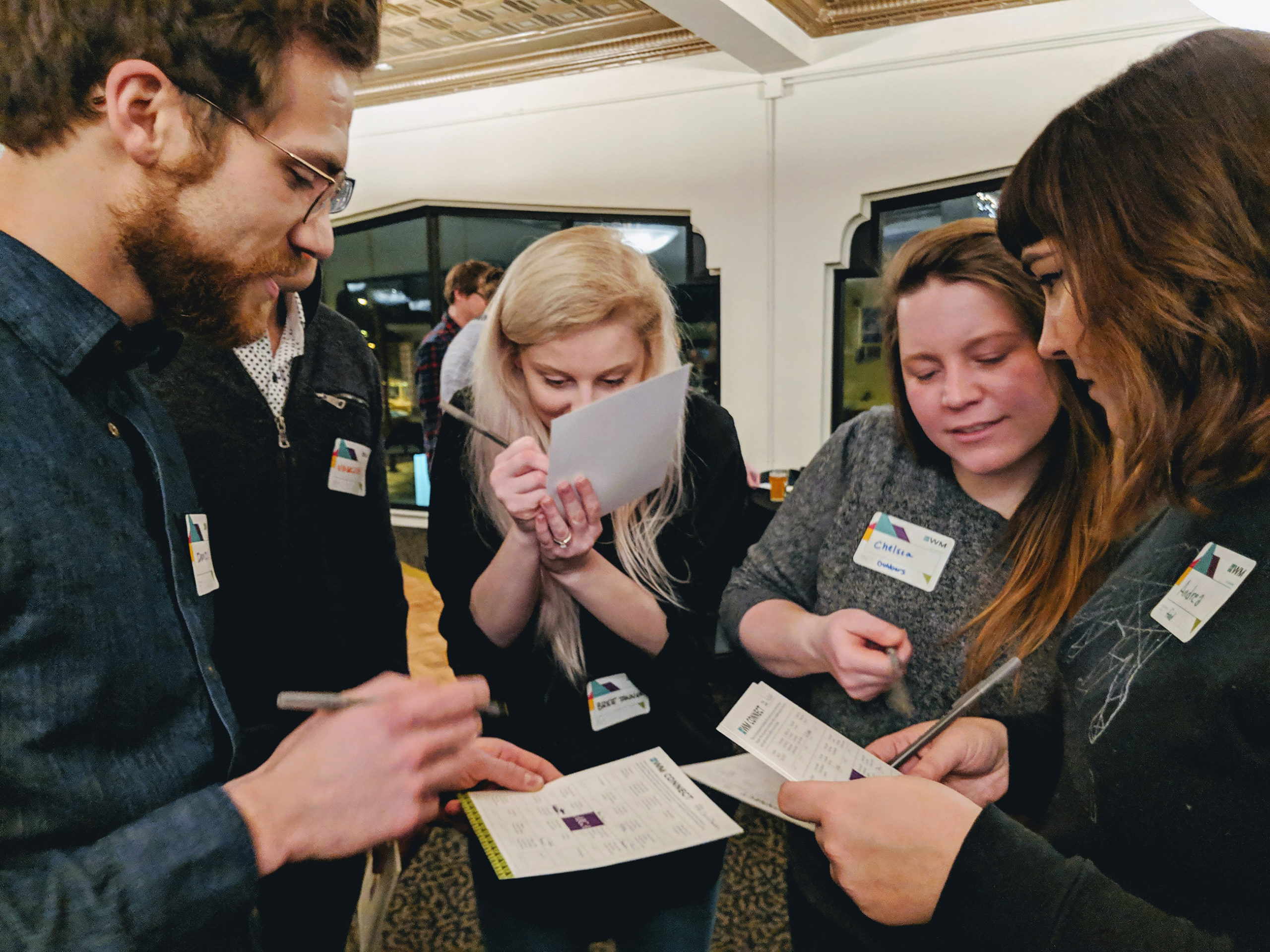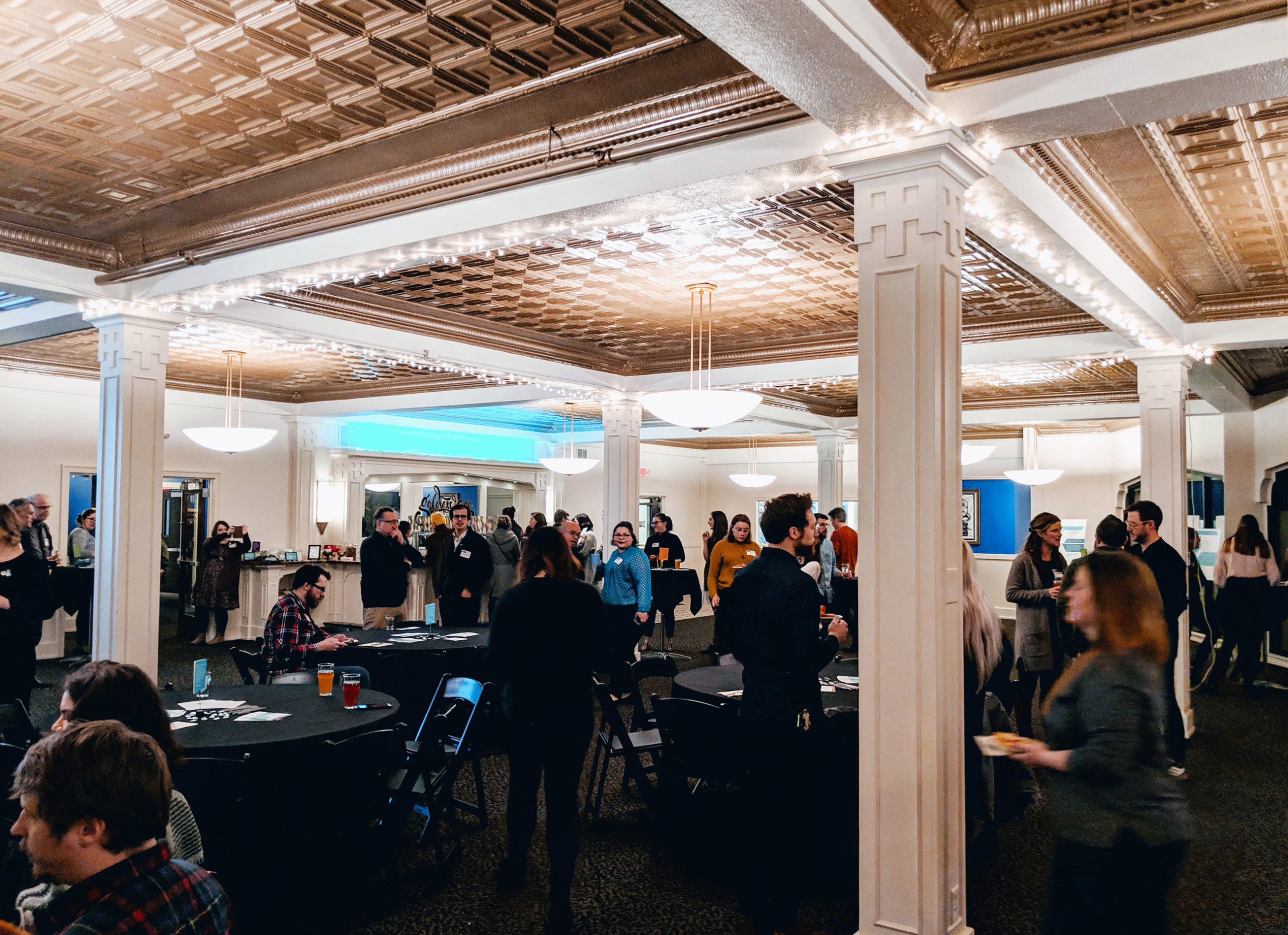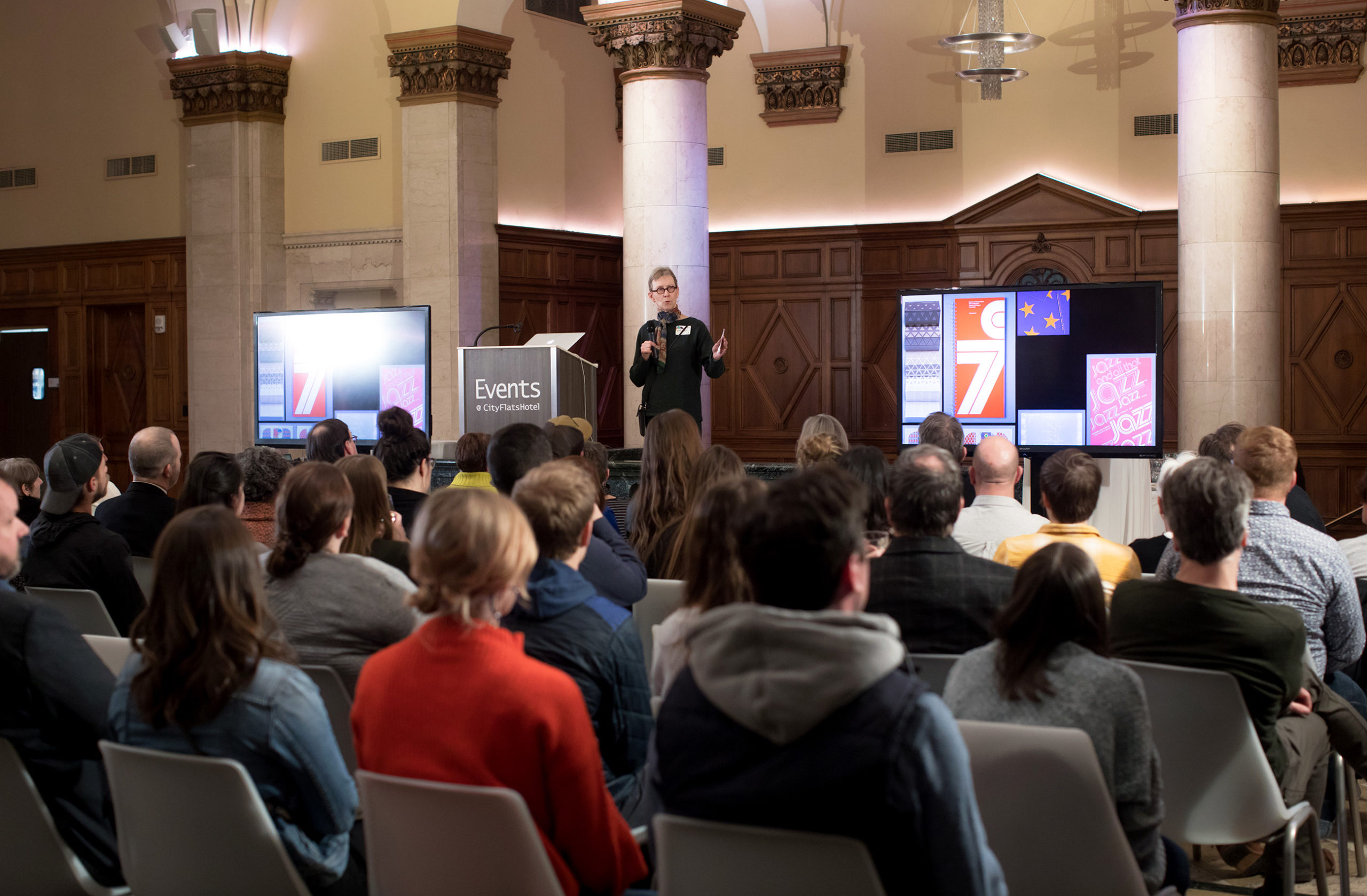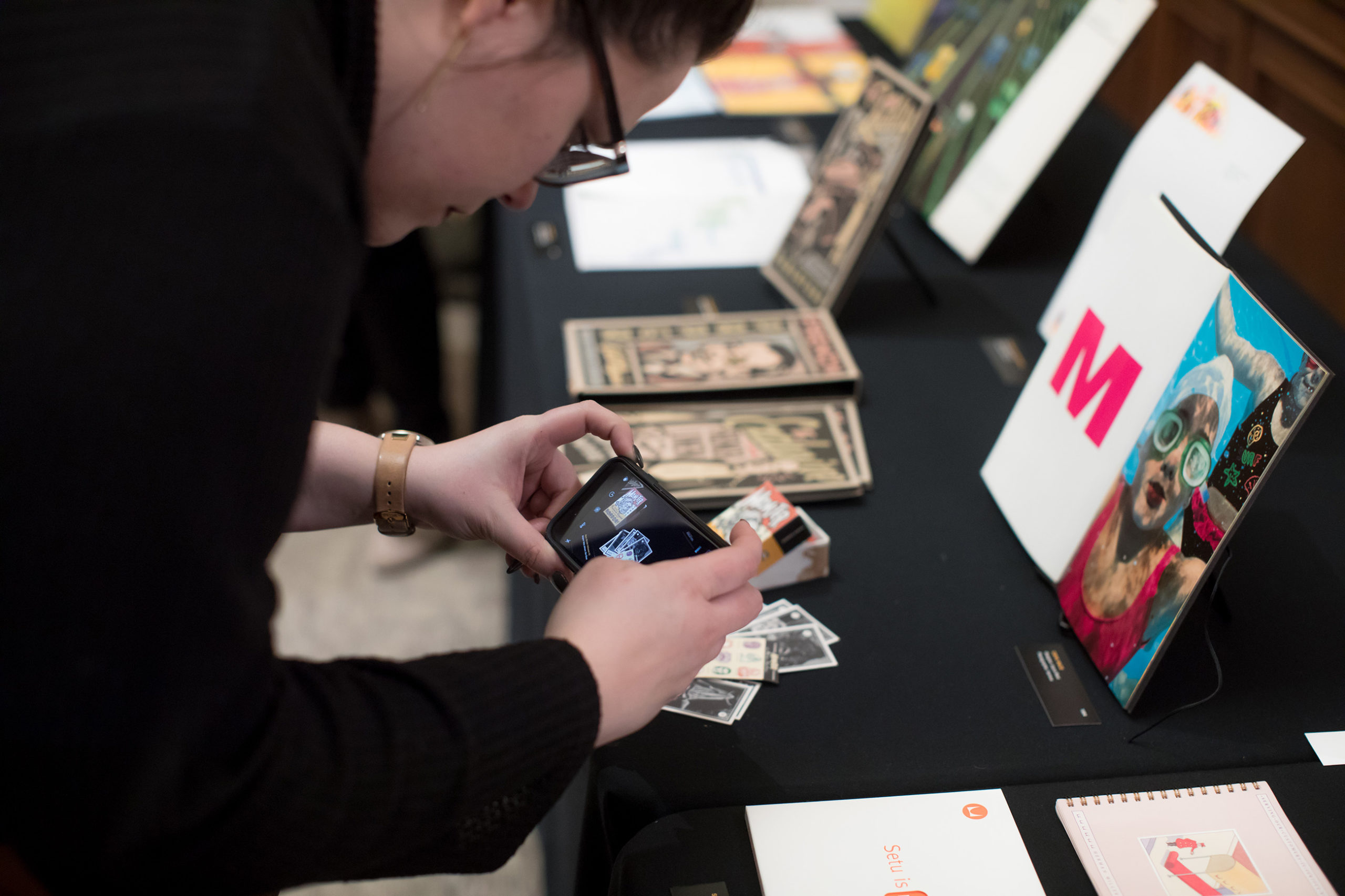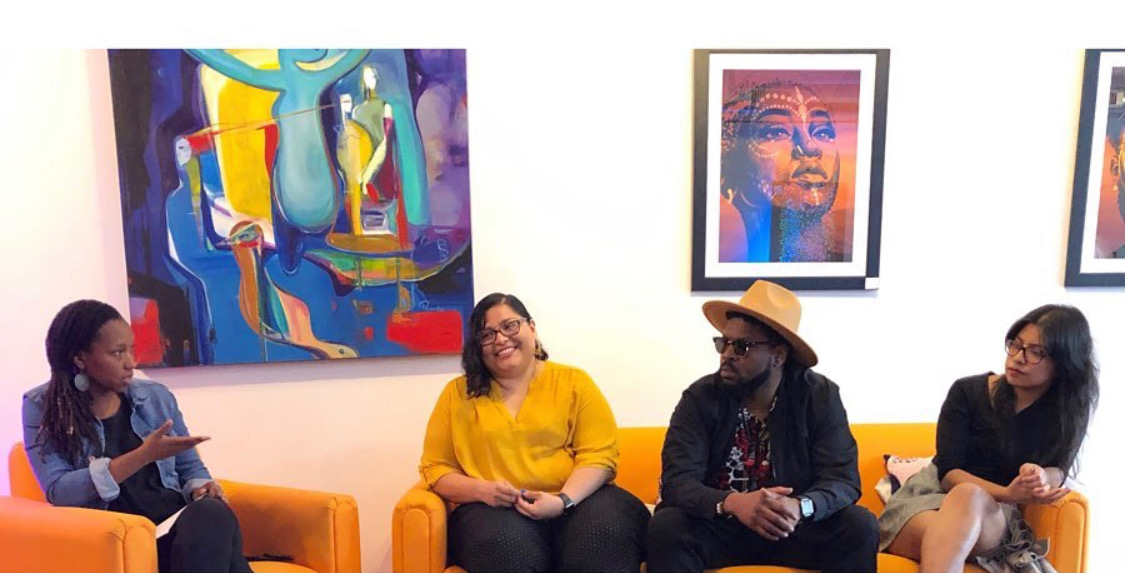 Connected With Community
We kicked off 2019 with our annual Member Meeting at Creston Brewery where we shared the highlights of 2018, the goals of 2019, and got just about everyone on their feet talking to one another in a revealing game of people bingo.  
With one event each quarter we celebrated a year-long partnership with The West Michigan Graphic Design Archives, hosting curated exhibits in three cities around the region to celebrate and raise awareness of the rich design history of West Michigan.
In collaboration with the Grand Rapids Public Library, we co-hosted Changing the Narrative, a panel discussion with creatives who are changing the way Black and Brown stories are told and who tells them. It was an honest conversation about the successes and struggles of being in the creative industry in Grand Rapids. 
We partnered with Code for Good on another successful Weekend for Good, where volunteers gather for three days to donate their time and expertise to local nonprofits. 
Night Shift brought us together for after-hours work sessions and networking hosted at studios around WM.
We also utilized social media to connect more with the design community, using interactive Instagram surveys to get your input on the types of programming we do and expanding our Slack community for collaboration, critique, and chit-chat. Have you joined our Slack community yet? It's free for everyone! Join here.
Community + Connection: New Name, Same Goals
The Diversity + Inclusion Director role and committee has evolved into Community + Connection. As a board, we agreed that it's all of our responsibility to reach for equity and inclusion, and we haven't lost sight of this. That goal has been centralized and distributed across the board, and we can only truly be inclusive if everyone is doing their part to create that environment. The board agreed that the next step of inclusion is to cultivate intentional and authentic connections in the community we serve. This isn't just in design, but re-thinking how we as a design community can show up for our community at large. Keep an eye out for a blog post about this new approach. If you'd like to join the committee and help bring this goal to life, please email Naomi at naomi.silas@westmichigan.aiga.org.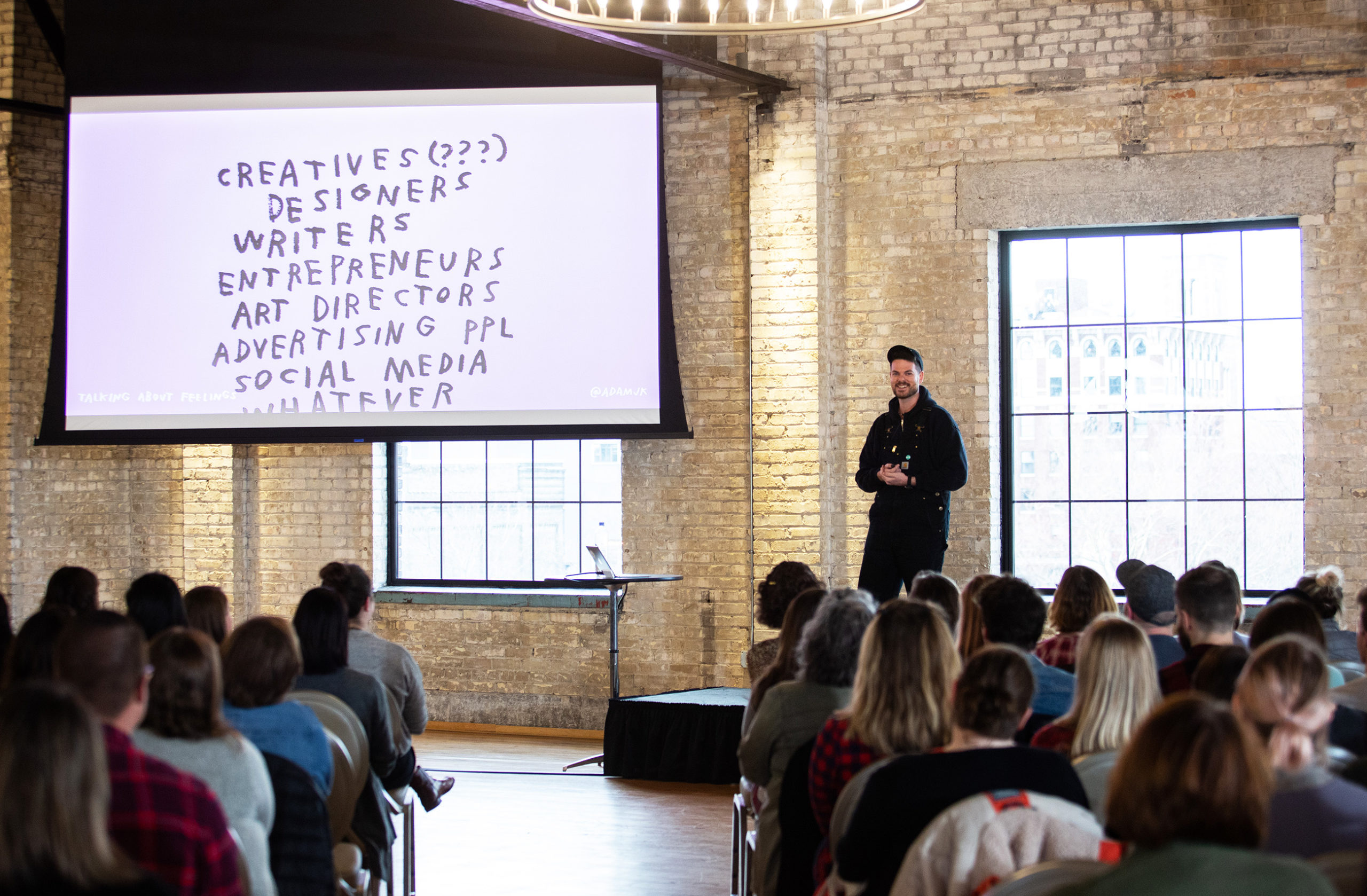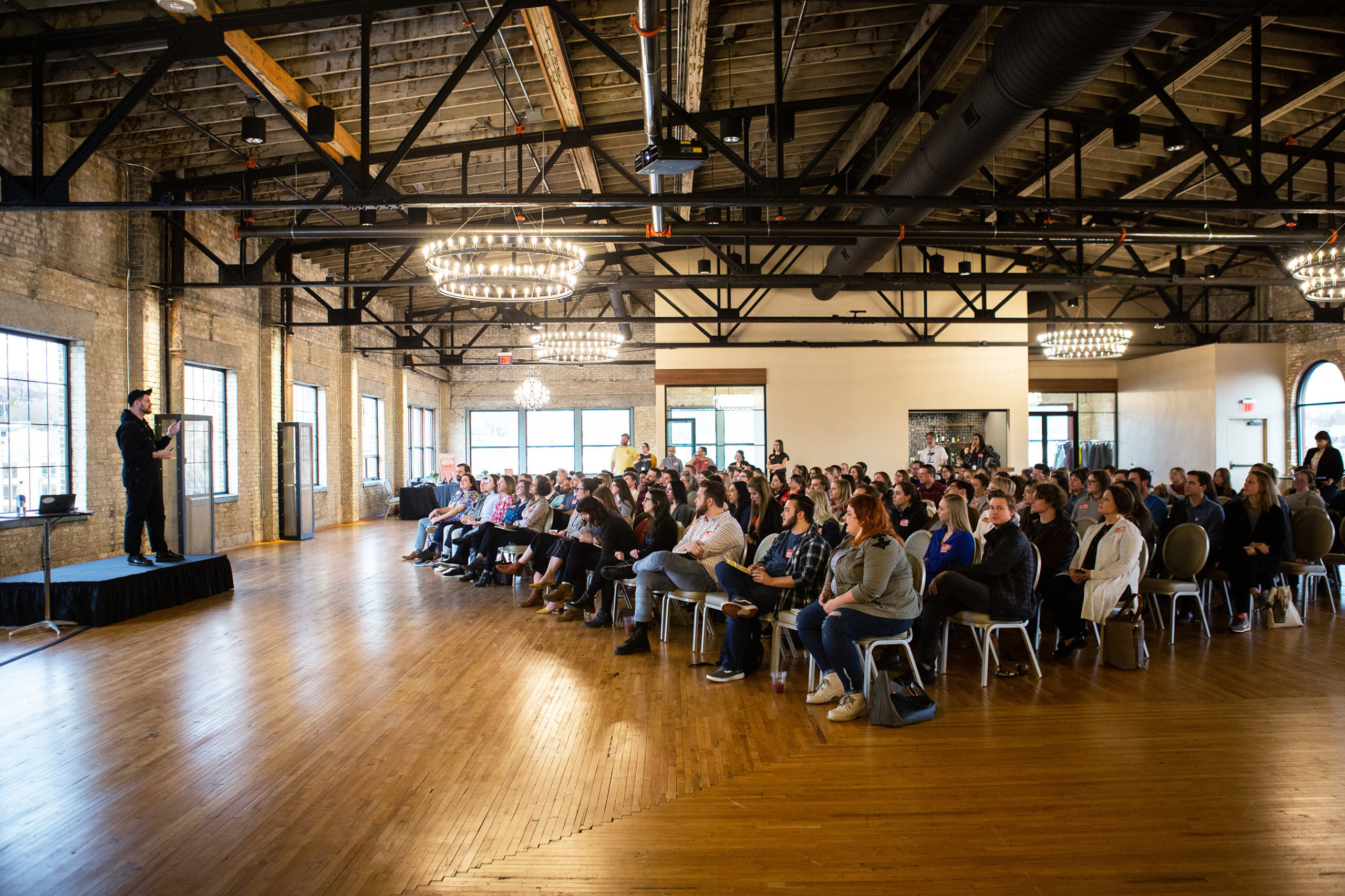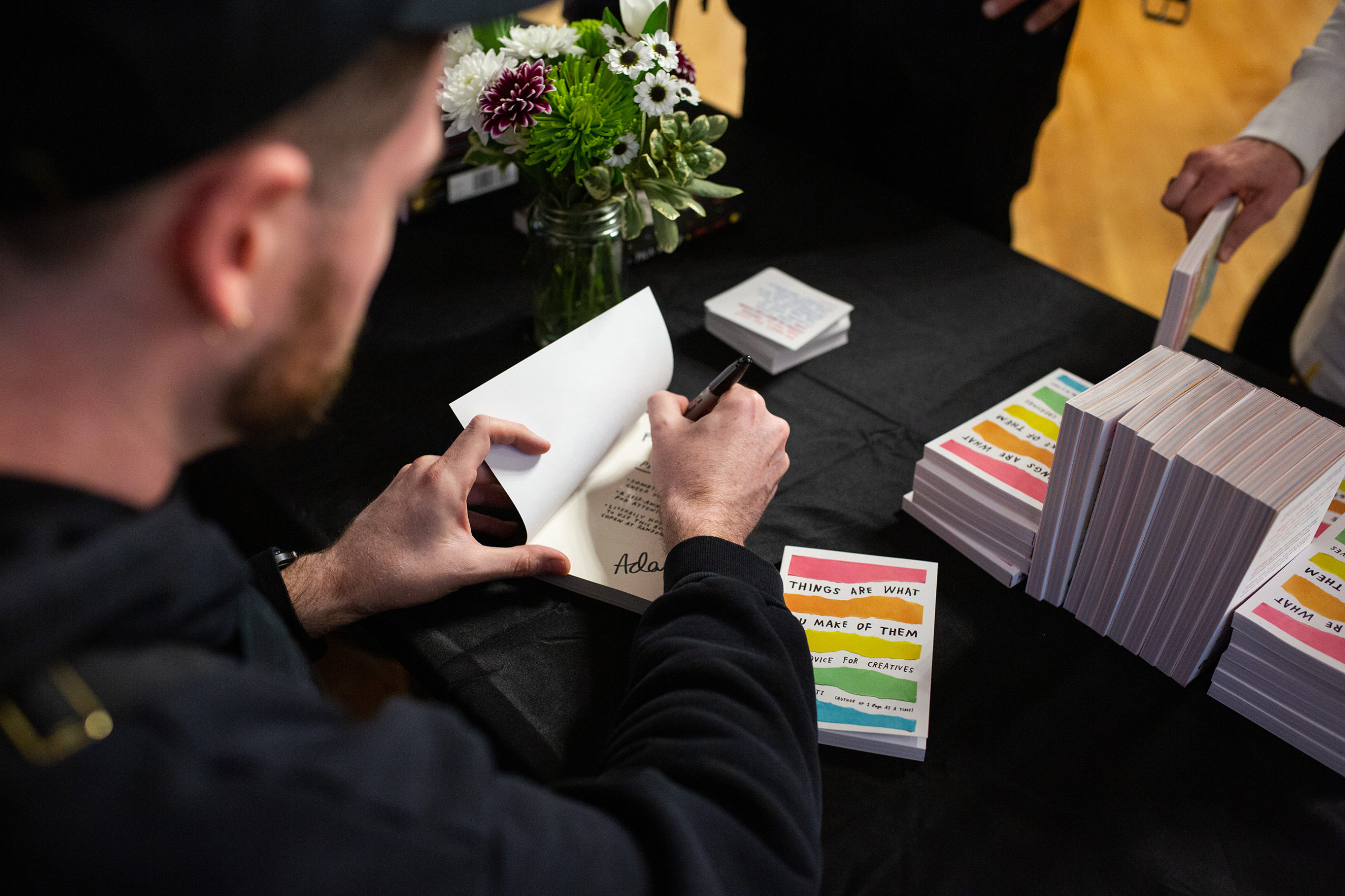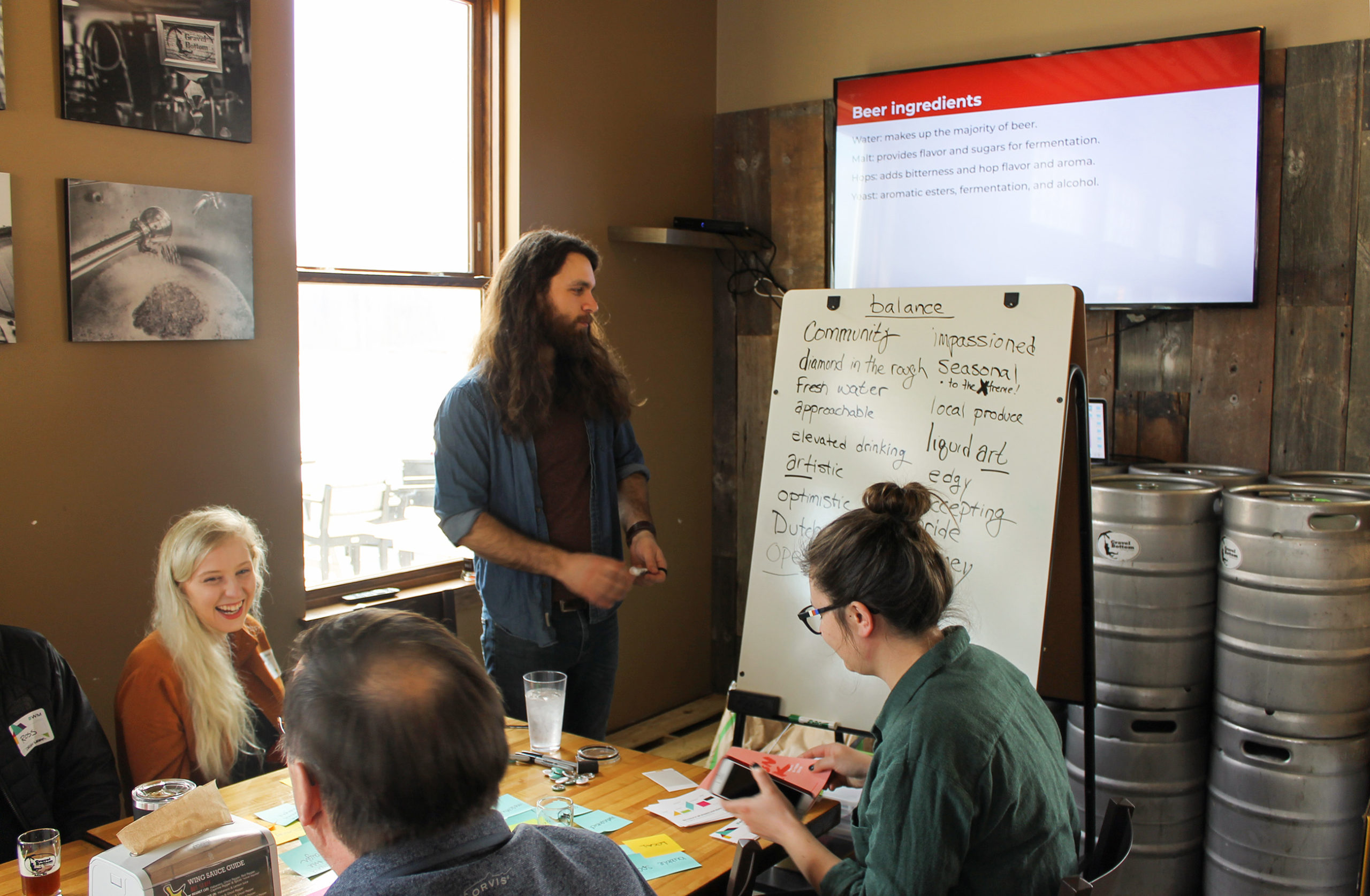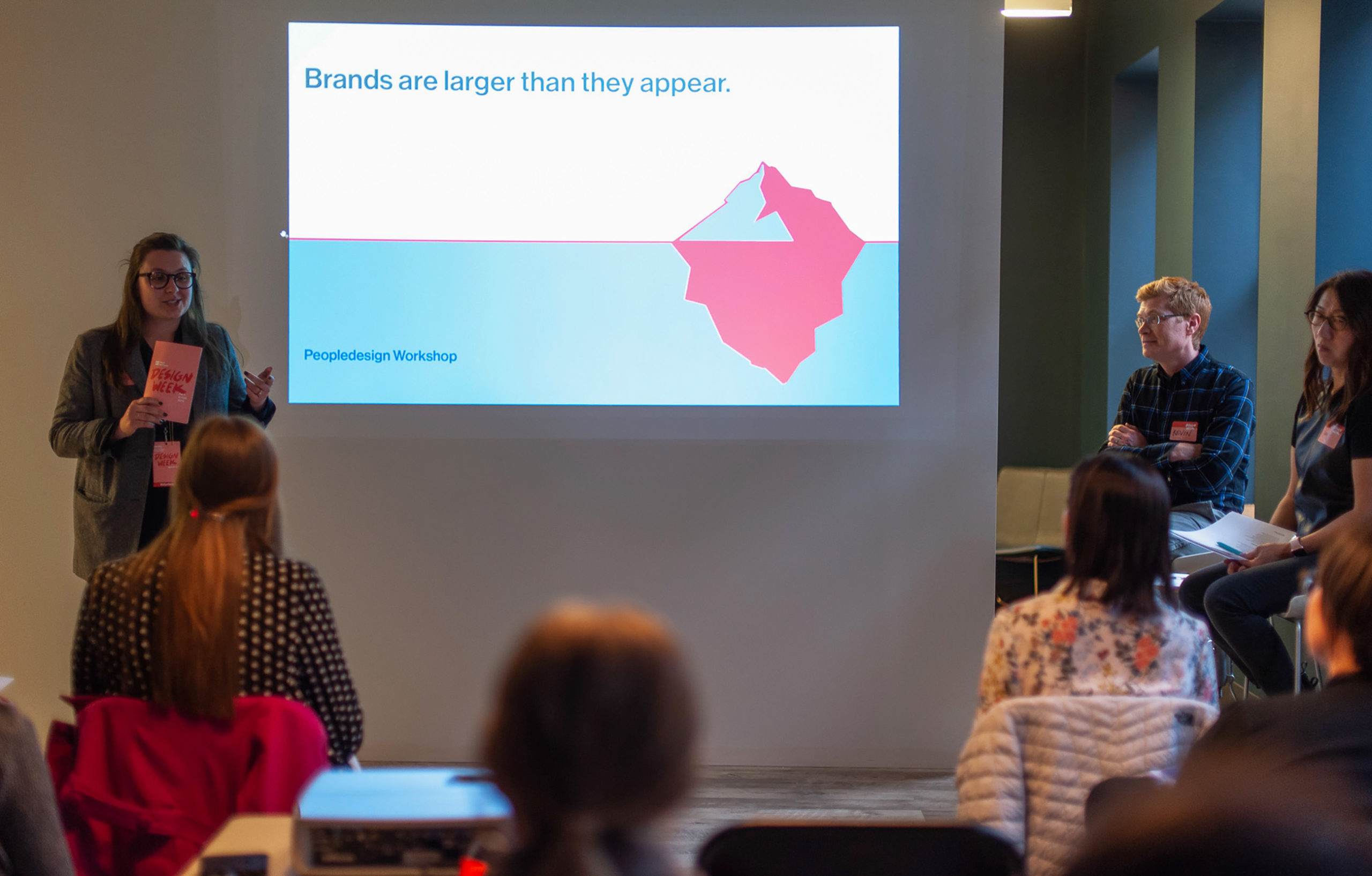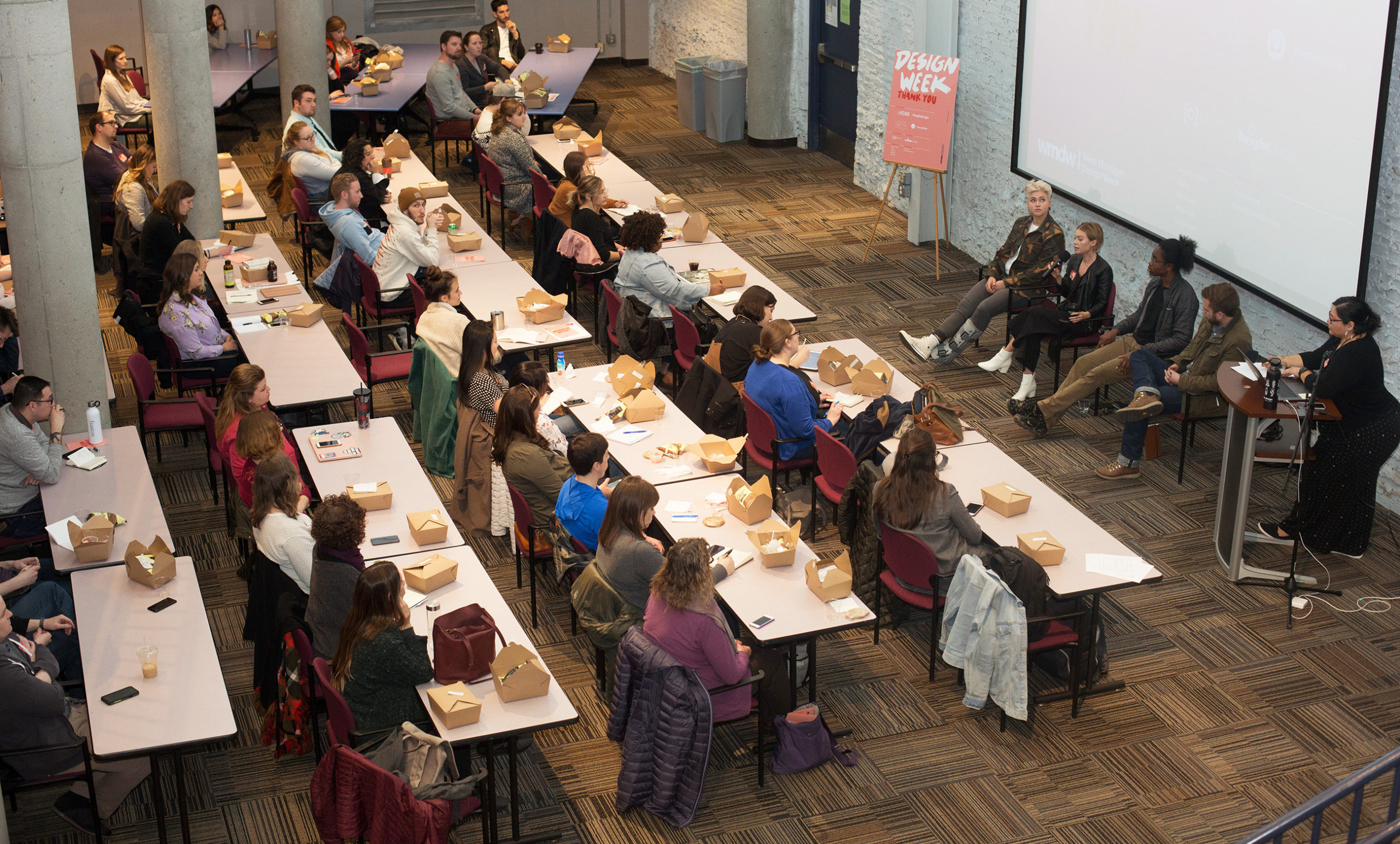 Celebrated Our Design Community
At our sixth annual West Michigan Design Week, we were able to bring our community together for thirteen events over the course of eight days. Together, we toured studios, stepped away from the screen, talked about feelings with Adam JK, designed a beer, found our passion, and more. As always, it was a whirlwind week. Through these events, we educated, connected, and celebrated our local creatives. It's always a highlight of our year!
To keep things fresh in 2020, we launched a new brand system including an all-new website, updating the design created in 2017 with the help of Well Design Studio. While we had big plans for our 2020 Design Week, these were all shifted when Coronavirus swept through and changed everything. We are still working out what Design Week looks like and when it will take place — no matter what, we're working on making 2020 West Michigan Design Week happen. We just imagine it looking a little different than originally planned. Please keep an eye on future communications; we hope to make some announcements soon!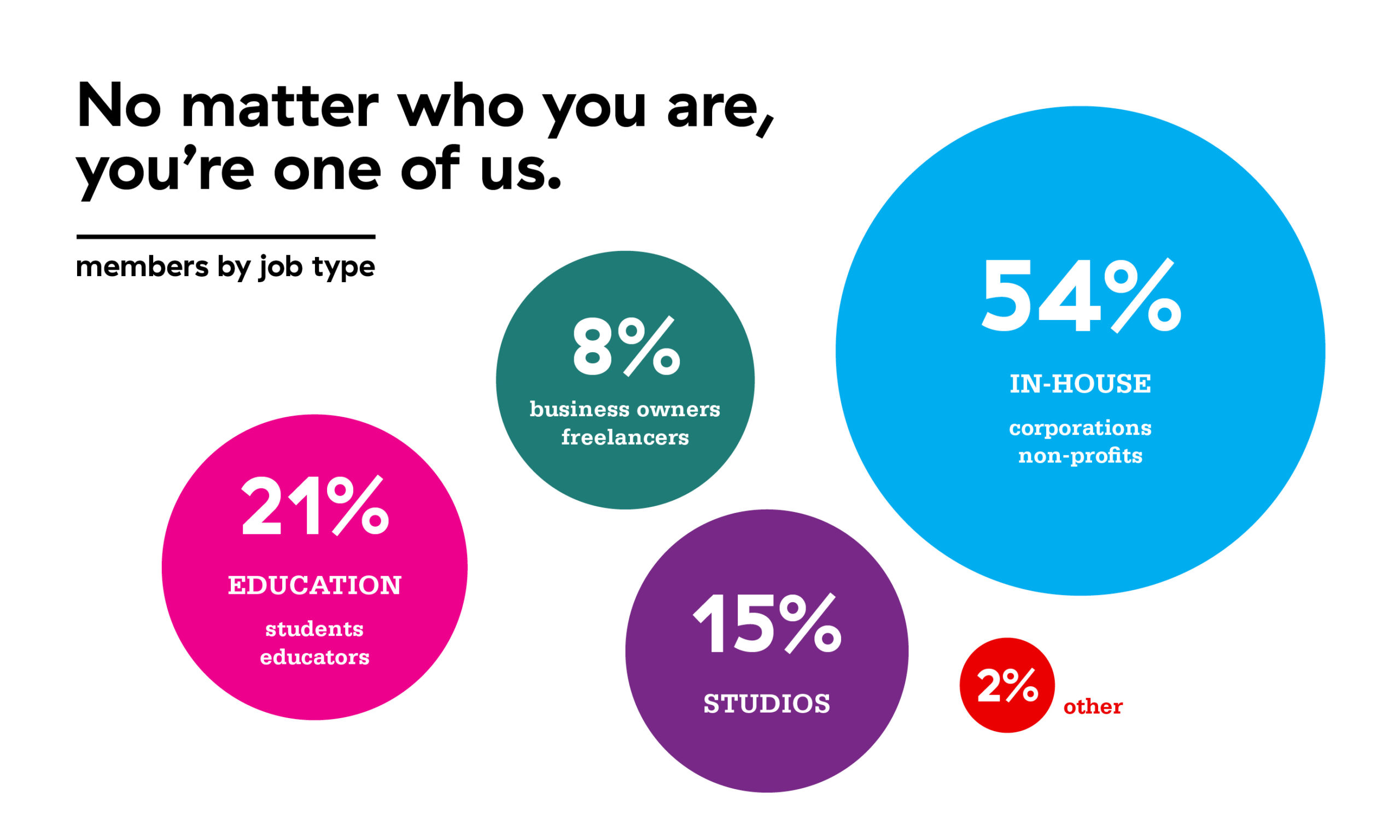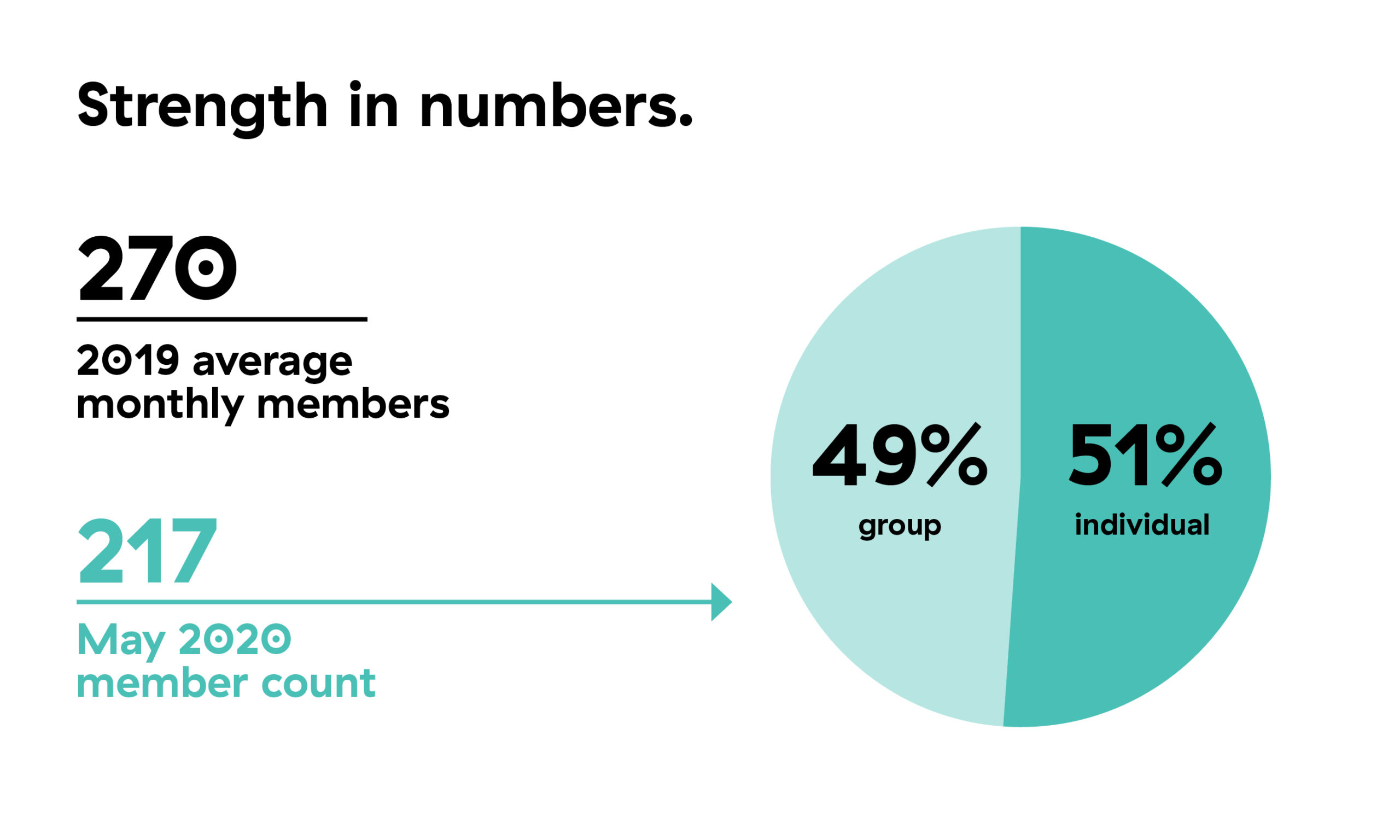 Support Your Profession. Join AIGA.
About half of AIGA's funding comes directly from membership dues, so the participation of every member really counts. Whether it's a $50 contribution or a $500 Leader membership, the support of our members makes everything we do possible. And in turn, every participation level offers members not only a vast range of tangible benefits but some intangible ones as well – which can be some of the most meaningful aspects of being an AIGA member. Learn more and join at aiga.org.
New Skillshare Benefit
Announced this spring, Sustaining level members will receive 40% off a premium Skillshare subscription! And, new Skillshare subscribers with AIGA memberships will receive two months free with the option of receiving 40% off a premium Skillshare subscription should they choose to upgrade their AIGA membership to the Sustaining level. You can read about all AIGA membership benefits at aiga.org.
More Money for Every Chapter
Last fall, the percentage of membership dues that comes back to each affiliated chapter was simplified. Previously a different percentage for each membership level, now 30% of dues from every membership comes back to the chapter to help fund chapter activities. This amounts to more money for every chapter! The remaining 70% funds the organization at a national level, including chapter websites, Eye On Design, scholarships, national events, and more.
Group Membership Cost Update
New group tiers were established last year to simplify the cost structure for group memberships. Previously a base price for three members with each additional member an additional cost, now memberships are set by tiers of people to more easily add new team members. The starting range remains at three members for $675. The full cost breakdown can be found at aiga.org.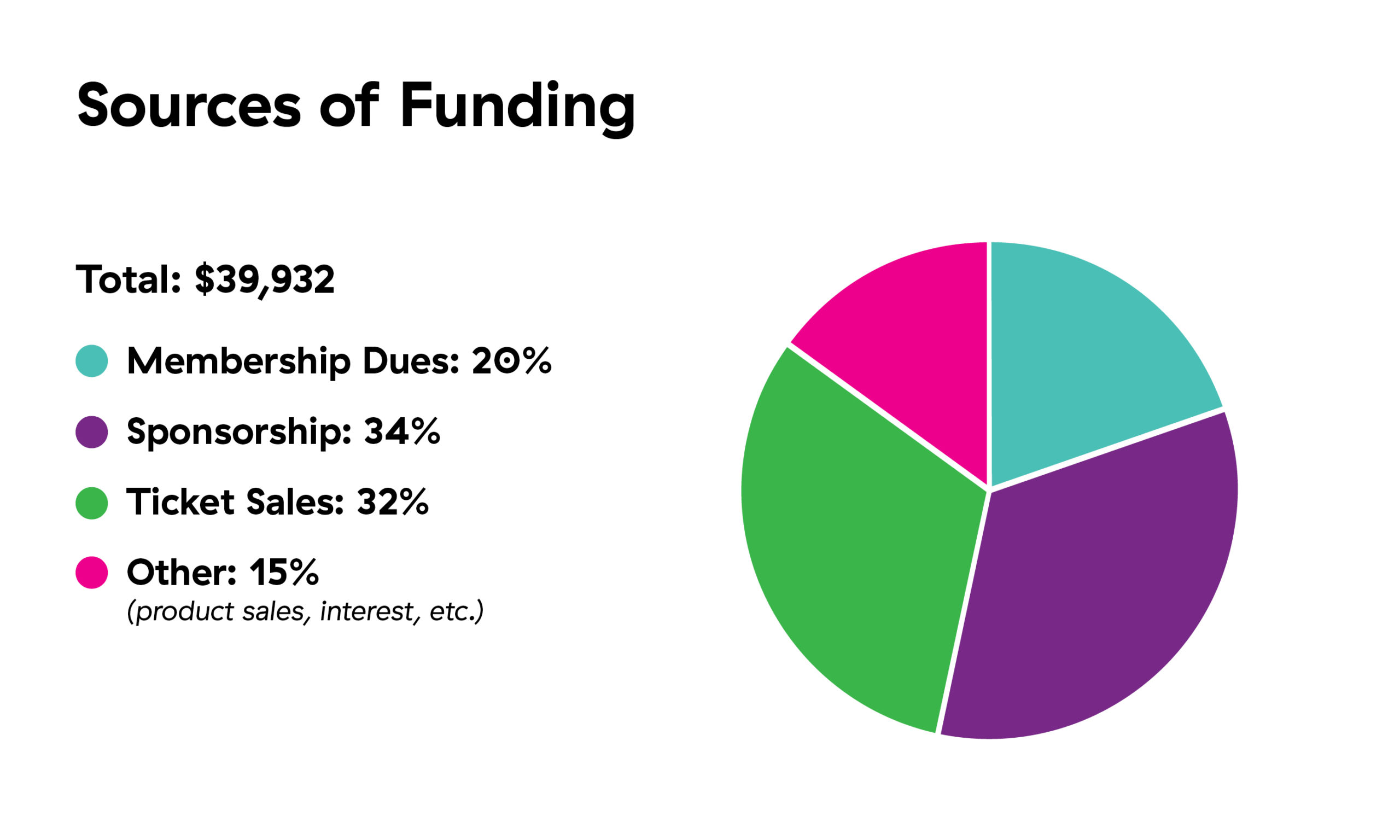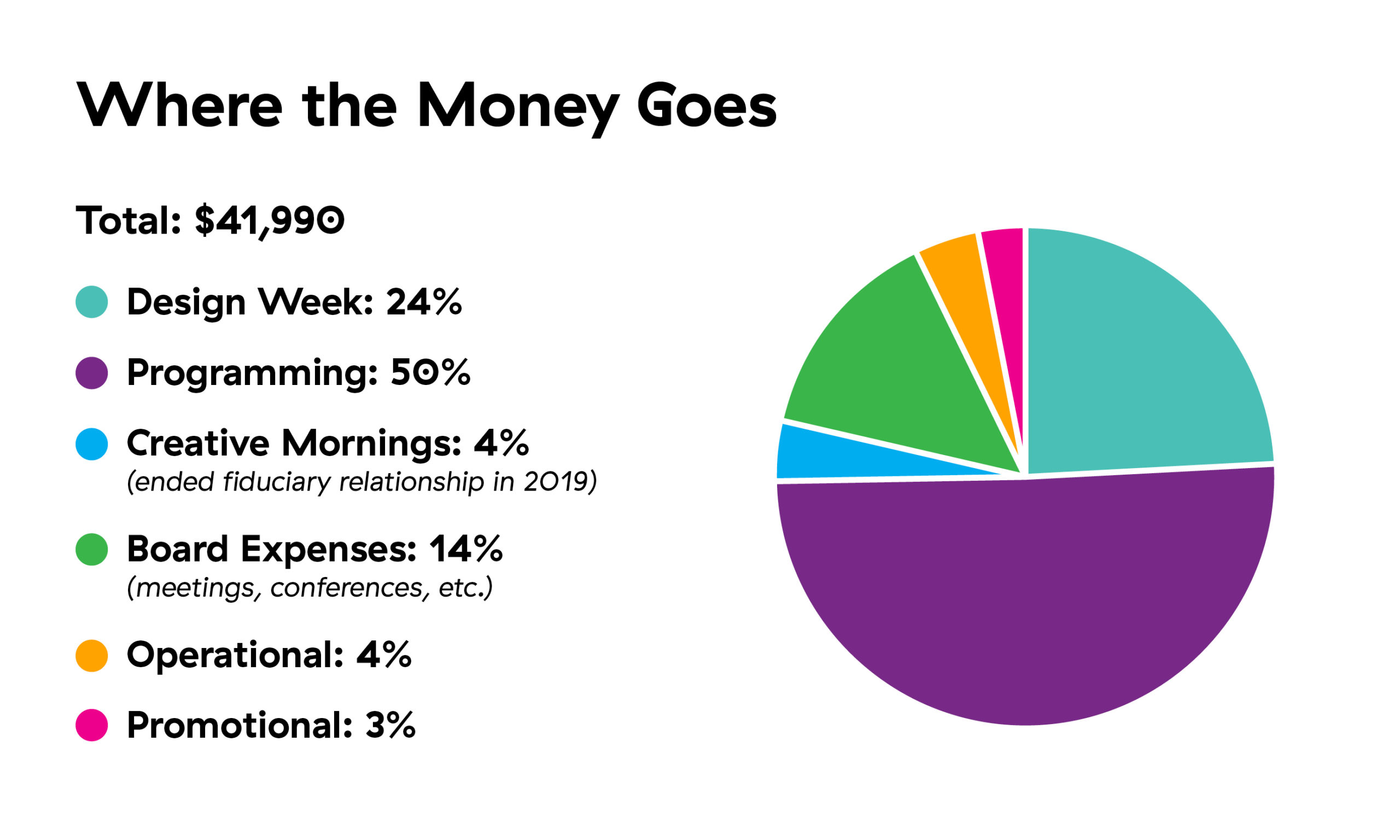 2019 Financials
First, we would like to start by thanking our generous sponsors. A special thank you to Ferris Coffee & Nut Co., Grand Valley State University, Herman Miller, Newell Brands Design Center, and SDI Experience for your ongoing support of our programs and community. In 2019, AIGA WM financial donations for events totaled $13,440. We left 2019 with just over $6,000 in the bank, generated mostly from membership dues. 
With little event spending in the first quarter of 2020 due to the Stay Home order postponing Design Week, our budget is holding flat. To date we have $7,232.98 (68% income and to-date expenses are 38% of present-day) and $518.36 in savings. This does not include pending donations for future Design Week programming. It's supported by our membership, and we thank you for your continued participation and look forward to our events.
Board Updates
Three members of the AIGA WM board attended the AIGA National Leadership Retreat in Atlanta, GA in August of 2019. The Leadership Retreat gathers board members from chapters across the country to share successes, brainstorm solutions, and discuss the future of the organization nationally and locally. Our chapter representatives learned about sponsorships, mentoring, student outreach, community engagement, and more. Many of the lessons have been fundamental in our latest chapter planning.
Earlier this year, the board spent a Saturday in January thinking through goals and strategies for the new year. There was a lot of enthusiasm as we brainstormed ideas for Design Week, discussed community initiatives, and focused on the financial health of the organization. While the timeline for a lot of our planning may have changed, a majority of our goals and strategies remain the same.
With AIGA WM's two-year board terms, we have fresh ideas and talent rotating into new positions pretty regularly. You can always learn more about our board members at our website here. Below are our most recent board updates.
New president, Rich Evenhouse, elected in February
New communications director, Kendra Smith, elected in February
New programming director, Lydia VanHoven-Cook, elected in May
New membership director, Kegan Rivers, elected in May
New Design Week co-chair, Samantha Stutzman, elected in May
We are still seeking a new partnership director to foster relationships with outside organizations that provide financial and in-kind support for chapter programming and activities. If you're interested in this role, please apply here!
A Look Ahead
Now more than ever, all of our AIGA chapters are coming together. By embracing #OneAIGA, we are striving to support and grow our design community, professionals, and students, through shared events and programs, as well as exploring new formats and opportunities for virtual and live programming in West Michigan.
Goals for 2020
Establish new lines of communication with our members. Virtual tools will provide them the resources and opportunities they need in order to thrive during and after this crisis.
Connect professionals with other professionals, providing a networking outlet for those who may be looking to find a new job, learn about design, find community and/or grow their skillset as an independent designer.
Offer new resources and communication channels to students, helping them prepare for a career in design.
Reach out to new and previous partners through a new partnership director who will be crucial as we seek to make connections throughout the summer and fall of 2020.
Establish a Design Week chair and co-chair to help build a new vision of what West Michigan Design Week looks like in 2020 and beyond.
Remain fiscally responsible and financially accessible to our members and nonmembers alike.
Establish a communication strategy and streamline the tools we use for programming and education.
Be open to new opportunities and stay consistent with those we've previously established.
Provide clear, concise communication that represents the brand and personality of this chapter.
Support those who might not be able to access the opportunities that others can.
Reach out to more local design agencies and corporate sponsors to help support the underserved with scholarships, internships, skill sharing, and hosted events.
Create an environment where students are able to get the resources they need to connect with professionals, agency owners, and design-thinking opportunities.
Provide guidance and access to resources through virtual connections with professional mentors to help advise mentees in the next phase of the mentorship program.
Keep our organization as active as possible, even in the face of the current crisis we find ourselves in.
Operationally, streamline and work together to communicate easier, faster, and better and support each other across all committees.
Utilize more business tools for communication and event promotion.
Although this year is unlike any we've experienced before, we will continue to work hard on our goals, remain optimistic about the future, and do what designers always do; We'll creatively solve this problem together.